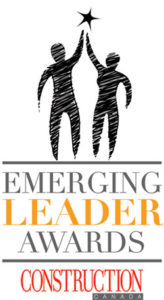 Construction Canada is pleased to announce the finalists of the 2nd annual Emerging Leader Awards, presented by Engineered Assemblies. The awards recognize young professionals for excellence in design, leadership, initiative, and/or service to the community.
Nominated by a member or members of their team, the finalists were selected by a jury of peers.
The finalists in the 'Demonstrates Initiative' category are Ryan Zizzo, P.Eng., LEED AP,
co-founder & COO of Mantle314, and Sonia Ramundi, OAA, an associate at Williamson Williamson.
Ahsan Ahmed, CCCA, LEED GA, project manager, Learning Facilities Division, Alberta Infrastructure, and Jesse Klimitz, MRAIC, OAA, director of business development at Quadrangle have been selected as finalists in the 'Demonstrates Leadership' category.
Daniel Norwood, BID, NCIDQ, ARIDO, IDC, a team leader at Figure3, and Sara Hassoon, P.Eng., senior structural engineer at AECOM, were chosen in the 'Demonstrates Teamwork' category.
Finalists in the 'Technology Advancement' category are Amin Asgarian, PhD, P.Eng., structural engineer, Buildings+Places, AECOM, and Daniel Prescott, P.Eng., associate, Mechanical Engineering, DIALOG.
For the 'Community Contribution' category, Joseph G. Orobia, LEED AP, principal, Architects At Play, and Salim Merchant, ARCHITECT AAA, MRAIC, principal of his eponymous firm, Merchant Architecture, were selected.
Lisa Jane Kellerman, Architect AAA, principal, Rootstock Architecture, and Loïc Angot, LEED AP, ENV SP,
practice leader, Sustainability, Lemay, were selected in the 'Industry Contribution' category.
The winners will be announced live over Zoom on December 2 at 3:30 p.m. EST, as part of the Buildings Week. Click here to register for the awards show.