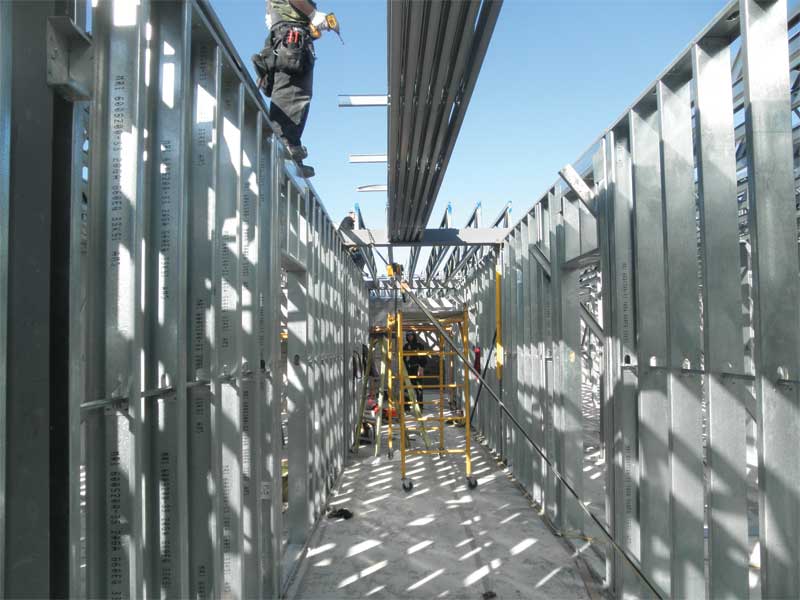 By Dan Snyder
Cold-formed steel framing has been a viable construction material for more than a century, but some professionals may not fully understand all the benefits of its use. One of the major advantages is maximizing the timeline of a building project and saving money—even during a harsh Canadian winter. Cold-formed steel is dimensionally stable and does not expand or contract with moisture content; it will not warp, split, crack, or creep when exposed to the elements. Moreover, the material's inherent strength provides architects and engineers with design flexibility.
All building construction projects present different challenges, especially in some areas of the country, where it is common to experience temperatures lower than 5 C (40 F) seven to eight months of the year. Cold-formed steel does not require certain temperatures to dry, set, or cure. With appropriate planning, this material can help building professionals continue their projects throughout the tough winter months. Several considerations should be made to best utilize the material in multiseason construction projects.
Prebuild planning
Using cold-formed steel allows for year-round construction and increases savings on projects. Building professionals can take advantage of the material for projects spanning the winter by planning ahead for a timeline that takes weather, material capabilities, and limitations into consideration.
In Oakville—just west of Toronto, along Lake Ontario—architects for Sheridan College's Trafalgar Campus student residence took advantage of steel by planning for the installation of loadbearing cold-formed steel framing on the project through the winter. By timing construction so the foundations were poured before winter began, crews were able to install the cold-formed steel framing and hollow-core floor and roof joists during the year's coldest three months, when temperatures ranged from –10 to –20 C (–4 to 14 F). Pouring the foundations prior to winter and using cold-formed steel framing were key factors to hitting milestones and meeting the project's final deadline. Sheridan College shaved approximately three months off its construction cycle and, as a result, saved an estimated $300,000 in carrying costs.
Both planning and co-ordination are significant cost-saving factors for multiseason projects. It is critical for project teams to communicate effectively during the initial prebuild stage. From architects and engineers to plumbing and electrical trades, it is crucial to have everyone involved right from the beginning—especially if the project team is considering offsite building options. Visualizing the project on paper or in a computerized drawing, as well as co-ordinating key dimensions with structural, architectural, and even mechanical drawings, is also a very important step in the process. The last thing any builder wants to encounter is surprises or repairs in the field that can result in doubling or even tripling initial cost estimates. Careful planning and good co-ordination will ensure all needs are met and lessen the risk of errors.
Timing is also a crucial factor that can make or break budgets and timelines. If a project requires panelization, getting an early start is a must. For planning purposes, six to 12 weeks is a standard lead time, with the scope and size of the job being considered, so waiting until the foundation is poured and the structural steel is ordered is not an option.
Steel panels and prefabricated components are typically created as computer models before they are manufactured to make the building process easier. Further, the material's inherent uniformity allows building professionals to both understand and predict how those products will interact with other building systems with a great deal of accuracy.

Control the content you see on ConstructionCanada.net!
Learn More.