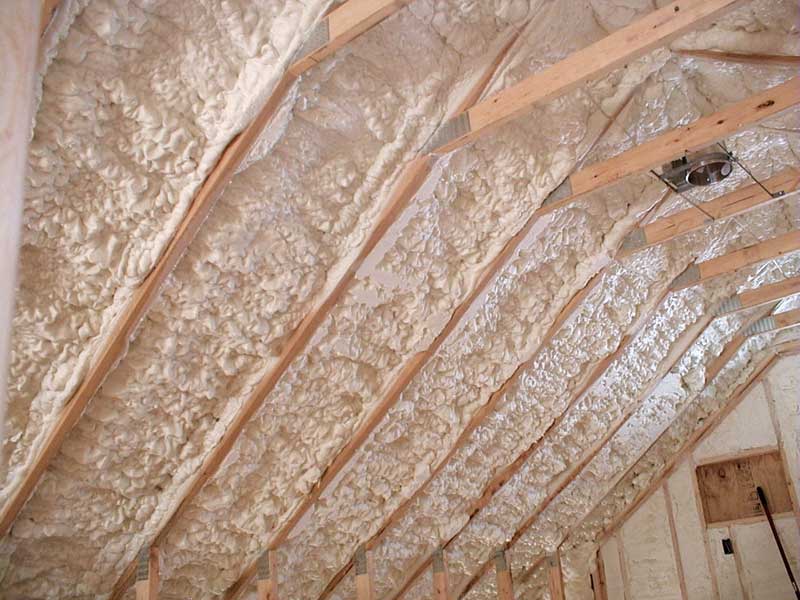 Other considerations
Many factors come into play when ensuring the performance of an unvented attic.
Vapour control with open-cell SPF
Vapour control can be achieved by installing a material with a vapour permeance of 1 perm or less. Naturally, closed-cell SPF, at thicknesses that would be typically installed in a roof space, would meet this requirement without the addition of any other materials. However, the alternative strategy of applying a vapour retarder paint over the interior surface of open-cell SPF first appeared in the literature around 2003. (More information is available in 2004's "Unvented Cathedralized Conditioned Attics: A Comprehensive Update," by A. Rudd of Building Science Corporation, and in 2005's "Understanding Attic Ventilation," by J. Lstiburek of Building Science Corporation.)
It may be helpful to the designer or regulator if the sprayfoam manufacturer is able to supply the assembly testing that was performed to qualify the particular performance of the foam plus paint combination.
Shingle life
The first and second greatest influences on roof temperatures are the roof's geographic location and the direction it is facing. (This is derived from "What's the Value of Ventilation" by C.G. Cash and E. Lyon, published in Professional Roofing Magazine in March 2002.) A rise of about 2 C (2 to 3 F) in asphalt shingle temperature and a corresponding rise of 6 C (10 F) in sheathing temperature were reported by researchers as early as the late 1990s. However, since the effect of ventilation decreases closer to the exterior surface of the shingle, an absolute temperature change of less than two per cent was suggested. Reviewers of published work examining this issue concluded it is unlikely the service life of roof shingles was extended by the use of attic ventilation, and that their colour played a more significant role. (Read the 1999 publication, "Issues Related to Venting of Attics and Cathedral Ceilings," by A. TenWolde and W. Rose in ASHRAE Transactions V.105, Pt.1, for more information.) Shingle durability and all commonly cited benefits of attic ventilation were more influenced by other strategies.
Recent developments
There is a long history of unvented attic performance in the United States, beginning with Building America demonstration houses in the early 2000s, which resulted in published design guidance and building code prescriptive language. Nonetheless, it is now the position of some U.S. researchers that reported problems with unvented attic designs in all climate zones are related to installations of open-cell sprayfoam where moisture is accumulating in the upper portions of the attic space. The proposed solution involves the introduction of air (via various possible strategies) or dehumidification to the space. (For further reading, see "Building Science Insight [BSI] 016: Ping Pong Water and the Chemical Engineer" by J. Lstiburek, published by Building Science Corporation in October 2016.) This radical departure from earlier guidance needs more substantiation.
Conclusion
When combined with strategies responding to the cautions building enclosure researchers have identified, all types of sprayfoam can, for the most part, work in all climate zones. As with any construction product, installation and workmanship are important. Combined with the proper detailing, sprayfoam is an effective solution for providing air impermeability (i.e. air control layer) and, in the case of closed-cell SPF, an integral vapour control layer.
Guidance to inform homeowners, such as was published by Canada Mortgage and Housing Corporation (CMHC) in the "About Your House" series at least as far back as the early 2000s, suggested that, especially as a standalone strategy, attic ventilation is overrated. A well-sealed ceiling and the maintenance of lower interior humidity levels were cited as the key influencers of roof assembly durability. The unvented attic design generally has a good in-service track record and is deserving of a more explicit treatment in Canadian building codes as a viable design option.
Peter Birkbeck, CTR, LEED Green Associate, is a codes and standards specialist with the engineering division of Icynene Inc., a manufacturer of sprayed polyurethane foam (SPF) systems. He has nearly 20 years of experience in polyurethane formulation, manufacturing, and product technical support. Birkbeck is active on numerous industry committees, and is a member of CSC, ASTM, American Society of Heating, Refrigerating, and Air-conditioning Engineers (ASHRAE), Canadian Home Builders' Association (CHBA) Technical Research Committee, and the Spray Foam Coalition–Canadian Work Group. He can be reached via e-mail at pbirkbeck@icynene.com.
 After we published this article in the October 2017 issue of Construction Canada

, a reader had concerns regarding ice damming. To read the letter and see the author's response, click

here

.

Control the content you see on ConstructionCanada.net!
Learn More.