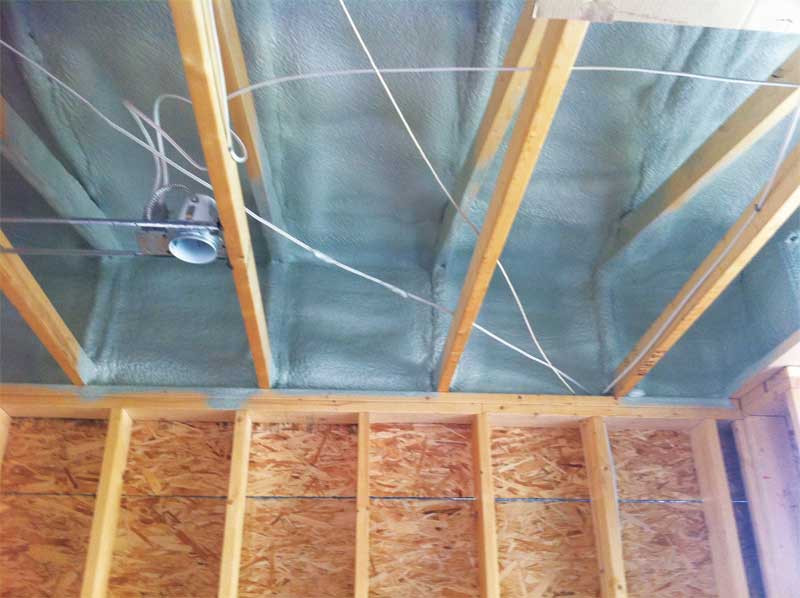 More recent studies
Significantly, one study concluded in the Pacific Northwest marine climate, relying solely on attic ventilation actually contributed to elevated moisture content in plywood roof sheathing in sloped wood-framed constructions. (The study in question was G. Finch et al's "The Problems with and Solutions for Unvented Attics," from the Proceedings of the 30th RCI International Convention and Trade Show in 2015.) In fact, among other things, the authors concluded the moisture content of the plywood was largely influenced by outdoor climatic conditions, such as exterior ambient temperature and relative humidity (RH). Night-sky cooling of the roof sheathing was a primary mechanism identified for these findings in small, well-constructed, ventilated roof spaces. Further, when the intentional impeding of sources of exterior wetting was investigated by the use of a vapour-impermeable roof membrane, a reduced potential for the plywood roof sheathing to dry was observed.
For more than one year, the University of Waterloo's Building Enclosure Group (BEG) studied both open- and closed-cell foams in-field in a test-hut environment in Southwestern Ontario. A combination of vented and unvented assemblies was studied, including vented fibreglass. The most notable conclusions were:
unvented open-cell sprayed polyurethane foam (SPF) exhibited elevated sheathing moisture content; and
vented fibreglass exhibited elevated rafter moisture content.
In the case of the unvented open-cell assembly, no visible damage or mould was observed on the framed components or wood panel. Both vented and unvented closed-cell SPF assemblies exhibited stable data with little cause for concern.
As is often done in such research, the assemblies were subsequently modelled in an attempt to confirm the in-field results. Most simulations of unvented assemblies can work in all except climate zones in the extreme north (heating degree days [HDD] 18 C  [64 F] > 7000). Specific findings indicated the installation workmanship of the open-cell SPF was important. In all cases, as one might expect, keeping the interior RH level below 35 per cent resulted in better-performing assemblies.
The most important aspects for durability were found to be interior relative humidity and airtightness. These criteria are especially important to open-cell sprayfoam, as well as the provision of adequate vapour control. Although sheet polyethylene yielded good results as a vapour control strategy with open-cell SPF, is was noted it inhibits both drying to the interior and moisture redistribution. Vapour-barrier paint on the drywall could provide some vapour control; however, even more control was suggested in this case.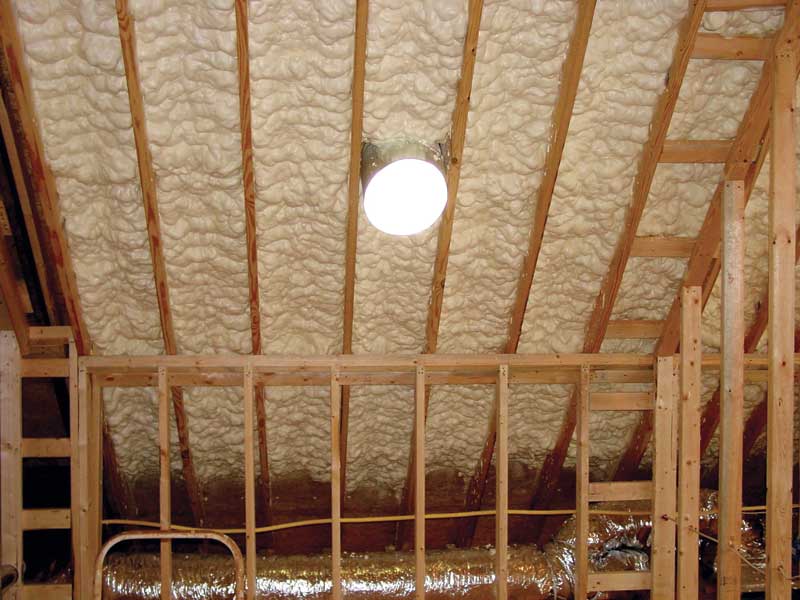 In the case of the vented fibreglass batt and sheet polyethylene simulation, it was concluded there was no risk of excessive sheathing moisture content in any climate zone, provided there was no air leakage. In traditional vented attic designs with the insulation in the ceiling plane, this would be hard to deliver in practice, especially with the tendency for ceiling penetrations to accommodate such features as recessed light fixtures. Further, the 'traditional' fibreglass-insulated assembly with polyethylene was assumed to be airtight; once again, this is likely difficult to deliver in the field.
This work resulted in the Canadian Spray Foam Guide, which concludes SPF installed in unvented attic designs can work in all climate zones, and full closed-cell sprayfoam is recommended for all climate zones. (For more, see the 2013 Canadian Spray Foam Guide from J. Smegal, J. Straube, and A. Grin of Building Science Consulting.) Specific cautions are advised for open-cell SPF, 'hybrid' insulation strategies (i.e. foam plus fibre), and insulating sheathing on the exterior of the roof deck. Most of these concerns centre around the provision of adequate levels of vapour control. Care must be taken with a hybrid design to ensure sufficient air-impermeable insulation is provided to control air infiltration. In other words, one should provide a material and thickness that qualifies as an air barrier. In all climate zones, one must also provide a sufficient ratio of air-impermeable to air-permeable insulation, such that the dewpoint does not occur on a surface with condensation potential.
A private study finalized in 2016 used the mould index model to evaluate data from an earlier instrumented actual house, as well as actual roof constructions evaluated in a test-hut scenario. (This study was C. Schumacher's 2016 publication, "Research Summary–Field Performance of Open-cell SPF Insulated Unvented Roof Assemblies in the Climate of Vancouver, B.C., Canada," published by Building Science Consulting.) Mould indices no greater than the threshold of '3' were calculated for the test-hut constructions, and indices over multiple seasons were seen to be declining. After four years, they reached an index not unlike that of the traditional ventilated (and fibreglass-insulated) attic.
In terms of the two open-cell SPF insulated attics, a similar declining profile for mould index was observed for both a scenario with no vapour control layer and one with vapour retarder paint applied to the surface of the foam. Interestingly, the performance of the open-cell SPF with no vapour control paint applied was marginally better.
These findings were confirmed with purposely made inspection openings in the test-hut scenario, as well as in actual in-service installations in the same climate zone. Roof sheathing moisture content observed was no higher than 16 per cent, with the majority being well below that. No visible mould was observed.

Control the content you see on ConstructionCanada.net!
Learn More.