Cost
The basic cost difference between designing with studcast versus conventional concrete panels varies, depending on the particular studcast system and the specific project conditions. Generally, the overall cost of installed studcast panels—materials plus delivery costs, labour, other installation expenses, and the contractor's overhead for the significant time difference—make them lower in comparison to traditional methods. In addition, the reduced cost of other structural elements and the minimized foundation excavation increases savings.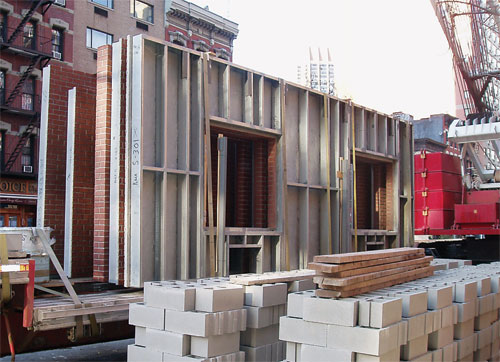 Light on the environment
Reducing the concrete in cladding panels can have important environmental value. Concrete has a high carbon footprint due to large CO2 emissions from the process of portland cement production. Portland cement accounts for approximately 15 to 18 per cent of solid materials in concrete. Every kilogram of portland cement produced releases about a kilogram of carbon dioxide into the atmosphere. The cement industry is attempting to increase efficiency of its manufacturing energy consumption, but that has a limited impact on the problem—almost half the CO2 comes from the chemical reaction of limestone calcining, so it is inherent in the nature of the material.
The key to more sustainable concrete is reducing the quantity of material needed. Studcast panels made of conventional concrete can cut the cement-related carbon footprint by almost 70 per cent. Thinner panels also consume less aggregate. Recycled content in the steel and inclusion of recycled cementitious products, such as fly ash, can also contribute to a greener building. Lighter panels also reduce transportation-related energy consumption and air pollution.
Special innovations
The light weight of the panels has inspired innovative erection methods. It is possible to do a lift-and-release technique, positioning the panel by crane and depositing it on landing hooks that temporarily hold it in position prior to the final connection. This allows the crane to be disconnected from the panel quickly to bring the next one without waiting for the first to be fully welded into place. Numerous panels can be temporarily positioned this way, enabling more perfect alignment before any sort of permanent connection occurs.
A specially designed, proprietary multi-layer joint-sealing system can keep water out of the interior. It includes a built-in pathway to channel out moisture that penetrates the outermost sealant layer. The channelling device also acts as a leak detection system, producing a small but visible wet spot on the exterior surface that pinpoints leak locations to within a few metres.
Remarkably, the advantages of studcast come with virtually no trade-offs. Studcast panels can be made with high-strength concrete to equal durability of conventional precast. With integral water repellant products, the thin concrete can achieve moisture-proof properties of full thickness precast. All the options of cast-in colour, texture details, and architectural veneers are possible. The thickness of concrete can also vary to allow for reveals or other architectural details.
How to specify
The concrete components can be specified in accordance with the revised Best Practice Guide: Architectural Precast Concrete: Walls and Structure by the Canada Mortgage and Housing Corporation (CMHC), the Design Manual (4th ed.), CSC's Tek-Aids, and various other technical documents by the Canadian Precast/Prestressed Concrete Institute (CPCI). CPCI also has a plant-certification program to assure certified precast fabricators meet acceptable quality assurance programs. Steel framing, on the other hand, should comply with the parameters of Canadian Standards Association (CSA) S136-07, North American Specifications for the Design of Cold-formed Steel Structural Members.
Established studcast producers can provide more than 15 years of experience and test data to establish the best way to integrate the panel's concrete and steel elements. An experienced precast producer can make valuable contributions to the design team by suggesting the most effective means to produce desired ends.
Whenever possible, the decision to use studcast panels should be made early in the project to take advantage of reduced dead load when engineering the structure. On complex projects (and where appearance is crucial), a mockup should be specified to allow all parties to determine acceptable standards of performance.
The re-thinking of tried-and-true materials allow for improved construction methods and results, while utilizing the supply-and-delivery infrastructure on which the industry is built. It allows these time-tested materials to function more efficiently, and better meet the economic, environmental, and esthetic demands of the changing industry and society.
Moffette Tharpe is managing director of Easi-Set Industries, developers of the SlenderWall architectural precast system. He has more than 20 years of experience advancing innovative precast products and is active with the National Precast Concrete Association (NPCA) and the Prestressed Concrete Institute (PCI). Tharpe can be reached via www.slenderwall.com.
Robert Bouchard, CPCI, is CEO of Bétons Préfabriqués Du Lac (BPDL) in Alma, Que., a concrete precaster and producer of studcast panels, glass fiber reinforced concrete (GFRC), and ornamental masonry units. He has 20 years experience in concrete/cast stone. Bouchard has been a member of the board of directors of the Canadian Precast Concrete Institute (CPCI) since 2002, and is an active member of the Quebec Chapter. He can be contacted at www.bpdl.com.
Michael Chusid, RA, FCSI, CCS is principal of Chusid Associates, a technical and marketing consulting firm specializing in building products. He can be reached via www.chusid.com.
For more on thin precast/steel stud hybrids, click here.

Control the content you see on ConstructionCanada.net!
Learn More.