by Olivier Matte and Patrick Ouellet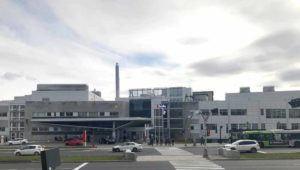 The Québec City University Hospital Centre (CHU) de Québec – Université Laval is the province's largest hospital network, comprising five specialty facilities. When facing the need to address an important backlog of deferred maintenance, the network opted for a deep retrofit project.
Implemented between 2011 and 2017 across four of its five sites—up to 366,985 m2 (3,950,237 sf) in gross surface area—the project has helped CHU slash energy consumption by 28 per cent, thereby generating $3.7 million in annual savings. This has been recognized by the industry as the CHU project has won multiple awards. The Québec City University Hospital Centre (CHU) de Québec – Université Laval was awarded the 2017 Canadian Healthcare Engineering Society (CHES) Wayne McLellan. It also received an honourable mention at the 2018 American Society of Heating, Refrigerating and Air-Conditioning Engineers (ASHRAE) Technology Awards in the existing healthcare facilities category.
The project team faced several challenges, such as:
securing capital financing and incentives;
maintaining accountability of key partners;
mitigating any building disruption during implementation; and
achieving the deepest possible outcomes.
The retrofit also opened the door to new, efficient methods of providing heating and cooling to the buildings.

To tackle the complex challenges of project planning and execution, CHU chose a design-build project delivery method and used an integrated approach to rethink energy consumption. This method resulted in maximum savings and generated energy efficiency incentives that were used to pay for a large portion of the asset renewal required in the hospitals.
Each site is located in a different neighbourhood. The facilities do not share a common district network. Hence, they were tackled as separate projects. The biggest site, Centre hospitalier universitaire de Laval (CHUL), was started first, and upgrades to two other sites began a year later. These three projects were completed in 2015. The fourth and last site was improved between 2015 and 2017.
Requirements
Although each facility had particular needs, a few common drivers were present among all the hospitals. These include:
renewing HVAC assets and addressing deferred maintenance resulting from years of government budget cuts to the hospitals' technical services;
meeting energy-efficiency targets set by the Québec government for healthcare facilities;
achieving sustainability goals, including reduced water and energy use, lower greenhouse gas (GHG) emissions, and elimination of certain refrigerants to comply with the Montréal protocol;
reducing maintenance costs for HVAC systems;
maintaining comfort for patients and staff; and
increasing redundancy on critical systems.

Control the content you see on ConstructionCanada.net!
Learn More.