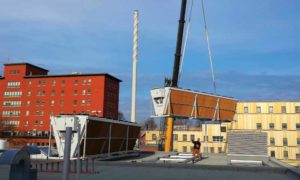 Beyond impressive results
After more than two years of completed performance monitoring, the numbers affirm the contractual targets set with the design-build firm were met. The site energy intensity of the four CHU sites combined dropped by 29 per cent, well beyond the 14 per cent government target (Figure 2).
Much critical HVAC equipment was also replaced, including 12 boilers, a chiller, cooling tower, a few ventilation units, and more than 1250 radiators. This resulted in improved redundancy and continued reliability for building occupants. GHG emissions were reduced by 49 per cent or 14,320 tonnes (14,094 tons) on an annual basis.
Although not monitored, many measures, including the steam-to-hot water conversion of the heating network are generating water savings through reduced losses and boiler blowdown. The use of heat recovery chillers translates into a reduced use of cooling towers, which are huge water consumers. Additionally, the geothermal fields used to reject heat during the summer reduce the use of the towers.
At HSFA, the new adiabatic towers helped raise the building's cooling capability without increasing the water consumption, as the equipment works in a closed-loop fashion. Compared to a typical open-loop cooling tower, this eliminates the risk of equipment freeze during the shoulder season. It also reduces required maintenance, use of chemicals, and risk of legionella.
Several of the older chillers using R-11 refrigerant have been replaced. The replacement chillers and heat pumps all use R-134a refrigerant, in compliance with the Montréal protocol.

Operation and maintenance considerations
The outcome-based approach incentivized the project team to spend extra time analyzing and studying the buildings before the implementation. This not only allowed for designing highly efficient installations, but also offered better understanding of operating issues and addressing CHU's needs in terms of maintenance and ease of operation.
The steam-to-hot water conversion of the heating networks reduces the number of parts to maintain, such as steam traps and pressure reduction valves, across all four sites. Old radiators and steam networks supplying the patient rooms used to fail quite often, requiring urgent work compromising the patient experience. The new hot water network is reliable and easier to maintain.
The design-build firm provided specific training sessions for CHU's operating staff on all new equipment, efficient building operation strategies, and centralized control upgrades. The project was well documented with manuals, including each system's spec sheet, technical drawings, user manual, and any relevant control strategies, as well as the manufacturer's guarantee.
In hindsight, by favouring a holistic approach and embracing a deep energy retrofit, CHU took advantage of the maximized utility savings and financial incentives to address as much asset renewal backlog as possible. This approach also helped CHU preserve its maintenance budget for other improvements (such as roof replacement, elevators, or other building components) that simply cannot be self-financed through savings or incentives.
The outcome-based approach favoured an alignment of interests for all parties and better collaboration throughout the entire project to deliver the targeted results.
With new equipment and better control systems, the CHU operations staff can now invest more time in preventive maintenance rather than constantly reacting to failure calls. This ultimately improves the patient experience.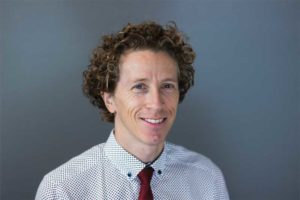 Olivier Matte is development manager at Ecosystem. After receiving a bachelor of mechanical engineering degree in 1999, he joined the Ecosystem team in 2003 as a project development engineer. An excellent communicator, Matte is responsible for staff training and occupant awareness. He also educates the market about energy-efficiency solutions by contributing to articles and videos. Matte can be reached via e-mail at Olivier.Matte@ecosystem.ca.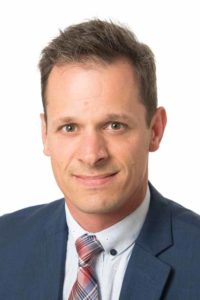 Patrick Ouellet is assistant director of technical services at the Québec City University Hospital Center (CHU) de Québec – Université Laval. He was responsible for project management at CHU and is also promoting the integrated, performance contracting approach with various public institutions in Québec. Ouellet can be reached at patrick.ouellet@chudequebec.ca.

Control the content you see on ConstructionCanada.net!
Learn More.