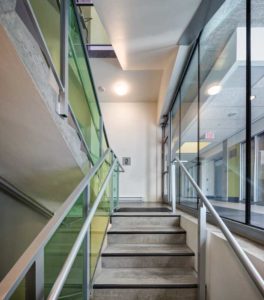 So right away, glass becomes a valuable part of many projects. The key is simply to ensure its performance and esthetics meet the requirements set in other areas to maximize credits.
Leave no points unexplored
While performance is key, there are ways beyond EA and IEQ credits to maximize the glazing specification to earn an extra LEED point.
For starters, certain types of glazing configurations and frame designs can contribute to an improved acoustic performance. Sound reduction capacity is typically given as sound transmission class (STC) or outdoor/indoor transmission class (OITC) of the glass panels or framed glass assembly. Higher numbers mean a greater drop in decibel levels coming through the wall or window. In schools, for example, exterior windows with an STC rating of at least 35 can help designers secure an additional point closer to certification.
Additionally, glass can help the project earn points as a sustainable material. The trick is to request an environmental product declaration (EPD).
LEED v4 Material and Resources (MR) credits can be earned by specifying products containing recycled or sustainably sourced materials or are permanently installed. These products must come with an EPD confirming its sustainable life-cycle impact and has been critically reviewed by a third-party such as Underwriters Laboratories (UL) Environment. The EPD documentation relies on data gathered during a life-cycle assessment (LCA). The LCA feeds information on a number of environmental impacts of products over their life cycle into the EPD.
One might think of an EPD as a food label outlining nutrition facts—it is a transparent way of showing the consumer exactly what they are ingesting (or, in the EPD's case, installing).
For example, a project may earn a point for using products meeting "responsible extraction criteria" for at least 25 per cent of the total project cost. Products sourced (i.e. extracted, manufactured, and purchased) within 160 km (100 mi) of the project site are valued at 200 per cent of their base contributing cost.
Then, there are the health product declarations (HPDs). They are impartial tools building owners can trust to accurately report a product's contents and each ingredient's relationship to the 'bigger picture' of human and ecological health. It defines the chemical makeup of a product to provide confidence its ingredients will not have a negative impact on the health of building inhabitants. This tool is a relatively easy way to earn points toward LEED v4's Material Ingredients (MI) credit.
It is recommended to not make assumptions here as to what materials may earn these extra points. Standards prevent fire-rated glass from including recycled content, but in some cases, the finished units' steel frames incorporate the necessary amount of post-consumer recycled content. For example, certain fire-rated glass products use an environmentally friendly chemical mixture that reacts in the event of fire. This can be an important differentiator for a project, and an HPD will hold all the details.
It is always worthwhile to ask the manufacturer for a list of products with EPDs or HPDs, or its take on maximizing a project's LEED credits. After all, the extra point may be all it takes to turn a Gold project into Platinum.
Lead clients to more LEED credits
The biggest takeaway is no performance requirement (or esthetic) is off limits when it comes to glass. By understanding the variety of ways in which glass can contribute to LEED v4 credits, industry professionals can sell larger portions of their services in areas designers may not yet have considered.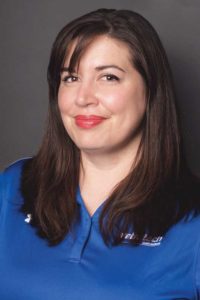 Stephanie Miller leads marketing and communications for Vetrotech Saint-Gobain in North America. Miller can be reached via e-mail at stephanie.miller@saint-gobain.com.

Control the content you see on ConstructionCanada.net!
Learn More.