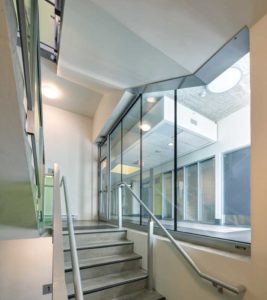 Perhaps the most important message manufacturers would like to convey to owners and designers is no matter the performance requirement the building team is trying to achieve, a combination of materials is available to achieve that goal. This is even true with options that once seemed to offer limited choice.
Take fire-rated glazing, for example. While yesterday's materials may have obstructed views, today's products can provide the National Building Code of Canada/National Fire Code of Canada (NBC/NFC)-required protection and the energy performance needed to earn LEED EA credits. The minimum energy performance will vary based on the project type and other building products used, but ultimately must contribute to either a set improvement over the baseline building performance rating calculated via a simulation, or the prescriptive provisions laid out in accordance with ANSI/ASHRAE/IES 90.1-2010.
Think of it this way: Insulating glass units (IGUs) provide optimal energy conservation, but they also offer the option of coupling different glass lites in various configurations. So, if the design team is looking to match fire-rated glazing with a specific esthetic element in non-fire-rated areas, for example, the solution may be as simple as using the same outboard lite as the non-rated sections of the building on the IGU to meet those needs.
Product manufacturers have the capability to determine how to use glass in combination with specific coatings, frames, or insulators needed to meet the performance requirements of any project.
Maximize those wide-open views
Of course, one criterion makes virtually every glass product an easy sell toward earning LEED credits and that is glass' biggest claim to points: it provides an unhindered connection to the outdoors.
In the past, this was not always the case. For example, early fire-rated glazing was known for the distinctive patterning of wire encapsulated within the lites. The crisscross of wire sent a clear message of security rather than natural outdoor beauty. Today's more sophisticated fire-rated glazing materials are virtually indistinguishable from standard glass in their clear appearance, yet offer code-required protection in the event of a fire.
This is good news when it comes to LEED, and its ultimate goal of creating connections to the outdoors.
On the technical side, projects achieving daylighting in 75 per cent of regularly occupied spaces (for schools, it is 75 or 90 per cent of classroom spaces) can secure points toward LEED v4's IEQ credit. An additional point can be achieved by ensuring a direct line of sight to the outdoor environment via vision glazing between 762 and 2286 mm (30 and 90 in.) above the floor for building occupants in 75 per cent of all regularly occupied floor areas. On top of that, 75 per cent of all regularly occupied floor areas must have at least two of the following four kinds of views:
multiple lines of sight;
views including at least two of:
flora, fauna, or sky;
movement; or
objects at least 8 m (25 ft) from the exterior of the glazing;
unobstructed views; and
view factor of three or greater (this is determined by the observation of available views for each workstation, typically established through 3D modelling).
These open spaces should be paired with manual or automatic glare-control devices in all regularly occupied spaces. In layman's terms, this means installing blinds, sunscreens, louvres, or double-duty electrochromic (EC) glazing solutions that will net the glass additional LEED points. The goal of this requirement, of course, is to ensure the incoming daylight does not impact the thermal or visual experience during times of the day when the window is subject to direct light.
What these views do on the human side is also powerful. Ample research supports the fact that a connection to the outdoors and natural lighting can boost productivity, promote healing, and improve the overall mood of building occupants.

Control the content you see on ConstructionCanada.net!
Learn More.