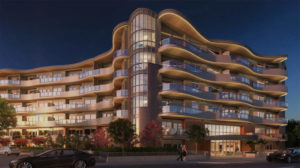 Legacy on Park Avenue in Langley, B.C., is a six-storey condominium combining advanced building systems with cross-laminated timber (CLT) panels. According to the Canadian Wood Council (CWC), this is also the very first application in Canada for a CLT firewall.
Built by MDM Construction, the project's curved 'flying' balconies were a key element of the design that could only be brought to fruition with CLT panels.
"The speed, fit, and finish of CLT panels cannot be matched in conventional framing. The material's ability to span in two directions at the same time has opened up new structural framing possibilities, allowing us to bring projects like Legacy to life," says Steve Rempel, partner, MDM Construction.
Construction is expected to end in July 2020.