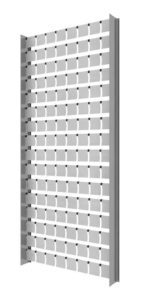 Finally, while the physical properties of the façade's elements and its interaction with the surrounding environment are critical, property/setback limitations, as well as zoning/code considerations, also need to be assessed during façade selection and installation. With respect to setback limitations, the appropriate cadastral map and other relevant property documentation should be consulted to ensure the flappers have enough clearance to exhibit a full range of motion without violating any setback requirements.
Additionally, all local zoning ordinances should be researched thoroughly to determine what, if any, regulations apply. For instance, some municipalities may require façade installations to comply with sign ordinances, especially where lettering or designs are applied or expressed through the arrangement of coloured flappers. Other jurisdictions may have restrictions on moving elements. In applications where the kinetic façade panels also serve as guardrails, they must be designed, specified, and installed in accordance with the relevant safety standards and specifications. For buildings, such as garage structures, where codes and standards specify free air ventilation requirements, the façade panels and elements should be sized to meet these specifications.
All kinetic installations can produce some level of ambient sound under higher wind conditions, therefore, the chosen system should be one that does not generate sound considered to be excessive for the given environment. The suspension system, construction material, and flapper geometry can be adjusted to ensure the level, tone, and timbre of the resulting sound is acceptable. Many manufacturers engineer systems with spacers between the flappers to reduce the collateral noise. It is, however, crucial that the volume and quality of sound generated by the installation are considered as early as possible in the design and specification process, and are verified with full-scale mockups.
Like almost any reachable element of a building, a façade is vulnerable to vandalism. The accessibility of the façade and the nature of the installation area should be assessed to determine the susceptibility of its elements to such issues. Ground-level elements should be given particular attention, especially if they are within reach of pedestrians. In parking structures and other applications where façade elements are easily accessible, it may be worthwhile to install protective mesh on the rear of unitized sections to prevent malicious vandalism, or to apply anti-graffiti coatings on the flapper elements. In any case, the ease of flapper replacement should be considered in case damage may occur.
Proper kinetic façade design should discourage bird or insect nesting. Minimized fixed horizontal surfaces, no open hollow voids, clear openings between moving elements, appropriate suspension systems, and reflective materials, are just some of the measures that can be employed to deter
bird nesting.
With the installation complete, minimal manual cleaning is required; naturally occurring rainfall is typically sufficient. In situations where more advanced cleaning is desired, mild pressure washing can be employed. While there are no routine maintenance requirements for most kinetic façade systems, periodic inspections for issues, such as storm damage or vandalism, as well as mounting connection checks are highly recommended.
While every challenge of site location, orientation, and environmental surroundings cannot be predicted, addressing the above considerations will set a kinetic façade project on the path to success.
With early involvement and ongoing collaboration between the designer, specifier, installer, and manufacturer, wind-driven kinetic façade systems add a dynamic and distinctive element to parking garages, retail centres, museums, sports arenas, theatres, and other building structures.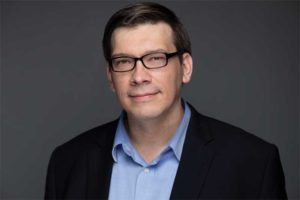 Jim Leslie is the general manager of EXTECH/Exterior Technologies, Inc., in Pittsburgh, Pa., leading the company's mission to improve lives through innovation in daylighting systems, natural ventilation, and other building envelope systems. Working closely with architects and specifiers, Leslie and his team redefine the intersection between the natural and built environments with wall, window, skylight, canopy, and custom systems, such as dynamic façade designs. Leslie has a bachelor of science in mathematics from Penn State University and is a member of the American Production and Inventory Control Society (APICS). He can be reached at jleslie@extechinc.com.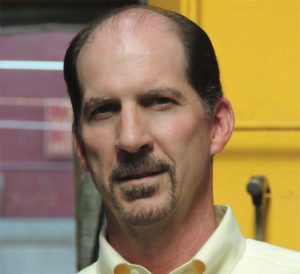 Kevin Smith is a registered architect, and leads EXTECH's team of architects and engineers as director of product application and development. He brings more than three decades of experience in designing commercial, civil, industrial, and transportation projects, as well as daylighting, static, and kinetic façades. He earned a bachelor of architecture from Carnegie Mellon University. He can be reached
at ksmith@extechinc.com.

Control the content you see on ConstructionCanada.net!
Learn More.