By Jim Leslie and Kevin Smith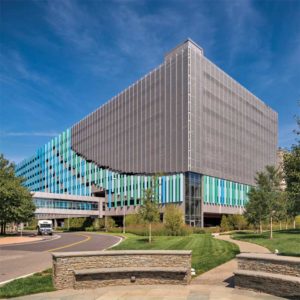 There are at least 22 windy days per year on average in Regina, Calgary, Hamilton, Toronto, Winnipeg, and Moncton. Of these, Regina has the most at 29 days and the highest speeds at 18 km/h (11 mph) on average. Across the country, buildings and structures can apply this abundant natural resource. Wind-driven kinetic façade systems' flapper-panel designs respond to air currents, adding dynamic movement to create the look of rolling waves across the wall system. Suitable for both small- and large-scale projects, popular applications include transit and parking facilities, cultural institutions, entertainment venues, and artistic installations.
A kinetic structure effectively alters the environment around its installation and, in turn, the structure is also affected by its surrounding conditions. The façade system, therefore, will need to possess specific design measures to ensure the building structure, as well as the occupants, are in harmony with the existing enclosing environment.
Design and specification considerations
With a kinetic façade system, the focus is on material selection; the flapper elements' size, shape, and spacing; and the suspension systems that support them. Integration of lighting elements can also play a key role in the system's design and the project's final appearance.
Material selection
As with any façade, material selection and arrangement are critical to long-term performance of the system. Due to the dynamic nature of a kinetic façade, it is critical to incorporate movement and, therefore, to consider wear and proper selection of proven ultraviolet (UV)- and abrasion-resistant materials. This often involves customized, accelerated testing of components and assemblies. It is important to note, the parts contributing to the façade system's motion must be UV-resistant to ensure long-term performance. For instance, the bushings in a rod-mount suspension system should be friction-free, long-lasting and hold up to years of UV exposure. If they became brittle and cracked, the flapper would no longer move properly. This could result in metal on metal grinding.
Physical mockups are also critically important during the developmental phases to assist the design team, building owner, and sometimes, the jurisdictional authority in understanding the visual and auditory effects of the proposed façade.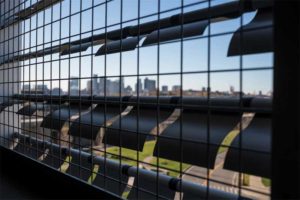 Flapper and lighting elements
Wind-driven, dynamic façade systems support a wide variety of flapper shapes, sizes, and materials. While aluminum is the most popular, other options include perforated materials, stainless steel, polycarbonate, polytetrafluoroethylene (PTFE), acrylic, and even polyvinylidene fluoride (PVDF) films.
A wide variety of flapper finishes also are available. Standard finishes include anodized aluminum or fluoropolymer paint. Higher gloss finishes, such as metallic coatings, tend to accentuate the visual kinetic action of the façade. Colour-shifting and textured finishes also produce interesting visual effects.
Patterns also can be printed or perforated on flapper elements. This can range from basic screen printing of simple patterns to full-colour image printing. Large images can be segmented or pixelated across the entire kinetic façade to bring a dynamic appearance to an artistic or branded image.
Flapper elements fabricated from translucent materials allow natural light to pass through the façade. Translucent acrylic and polycarbonate materials can be specified with infrared-blocking coatings to help manage unwanted solar heat gain inside the building.
Anti-reflective coatings on polycarbonate materials can reduce glare during the day, and at night could act as a backdrop for projected images and lighting effects. Regardless of the flapper element's material composition, many kinetic façade installations incorporate illumination during the evening. Face lighting from above can be used to emulate a daytime view, while dramatic effects can be achieved through the use of various night lighting including backlighting, uplighting, or wall wash lighting.
Suspension systems
To accommodate the specified flapper elements, there are three typical suspension systems to consider for wind-driven kinetic façade designs:
drop-in;
pin-mount; and
rod-mount.
Each configuration possesses different performance and esthetic characteristics and baseline costs. Modified and custom systems also can be developed for unique project requirements.

Control the content you see on ConstructionCanada.net!
Learn More.