Trends impacting buildings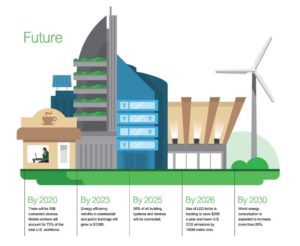 The current shift in how buildings are designed, built, and used is motivated by four predominant influencing factors: urbanization, desire for lower energy use, sustainability, and IoT.
Urbanization
By the year 2050, the proportion of the world's population living in urban areas will increase from 54 to 66 per cent (this information comes from a United Nations [UN] news report). That is an increase of 2.5 billion people living in urban areas between 2014 and 2050. Existing cities will get bigger and denser, and there will be new ones evolving in less developed countries. Over the next 40 years, the world is expected to build 230 billion m2 (2476 billion sf) of new construction (for more information, consult the UN Environment Global Status Report.).
Electricity
These cities all have one thing in common—they are made up of buildings, and these structures need electricity. Buildings represent 30 per cent of global energy consumption and more than 55 per cent of global electricity demand (for more information, visit the International Energy Agency [IEA]). Without action, energy demand from buildings could increase 30 per cent by 2060.
Sustainability
The above-mentioned rise in electricity consumption has affected and will continue to impact regulations to address consumption in cities around the world, such as the aforementioned EU directive. As sustainability becomes a core value for businesses, this value extends into the workspaces of organizations and directly impacts the desire for developing eco-friendly buildings.
IoT
The IoT industry is growing rapidly, and IoT solutions are becoming more affordable and accessible. By 2020, there will be more than 30 billion devices connected to the Internet (click here for details). IoT is creating opportunities for real-time optimization and forecasting with machines creating valuable analytics. Disruptions resulting from technology are bringing golden opportunities to create new requirements for buildings, enabling their owners to realize better efficiencies throughout the design, construction, and operation stages.

Control the content you see on ConstructionCanada.net!
Learn More.