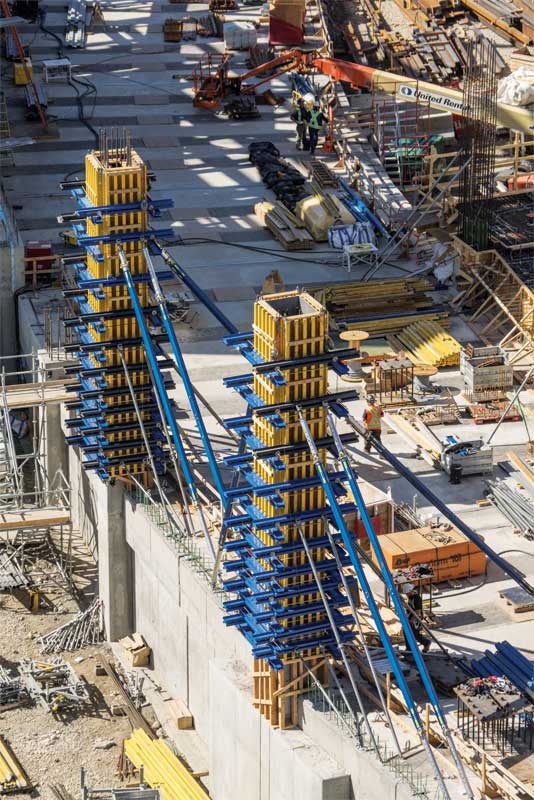 Ten York
Currently under construction, Ten York is a 65-storey luxury residential building that will, on completion, soar 224 m (735 ft). Designed by Wallman Architects and developer Tridel, the building rises dramatically from a triangular wedge alongside one of Toronto's major city arteries, the Gardiner Expressway. It will be one of the most prominent locations downtown, overlooking Lake Ontario and close to major transportation such as the subway, GO train, and Union Station.
Formwork challenges
The project team at Hardwall Construction knew building a structure such as Ten York would be no easy task. Many constrictions were imposed on the process due to the jobsite's close proximity to a major highway.
The position of the project prevents use of traditional truss tables, as well as limiting space on the ground for staging and storage of material. Another concern is the shear wall construction restricting the movement of shoring material through the building. Additionally, the building design calls for a 3-m (10-ft) deep transfer slab suspended 12 m (40 ft) above the floor below, and a schedule requirement of four days per floor.
The solution
One of the first steps to resolving these issues was to design and install preassembled perimeter protection loading platforms. The units could unfold and pin together onsite, allowing for quick assembly
and installation.
For ensuring worker safety, full-perimeter protection was implemented at the working level. This enclosure allows all work to be carried out in complete safety, protected from all weather conditions.
Wide-platform storage can also be integrated into the protection screen, providing storage and laydown space outside the building perimeter at any height, while the 5-m (16-ft) projection from the building allows shoring tables to be easily cycled without any interference from the perimeter protection. The windscreen platforms at the slab working level allow shoring material to be rolled out onto the working platform without use of a crane, and seven fully loaded windscreens can climb at once. Crane time is also reduced by storing wall formwork on protection-screen loading platforms instead of flying material back down to the ground. This innovative climbing perimeter offers work and loading platform protection in one system, saving valuable weeks of construction time.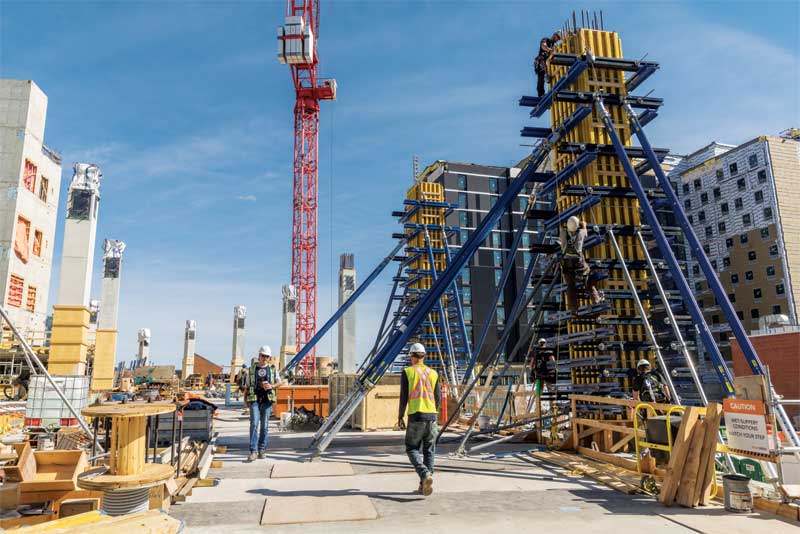 "This [adapted] version of the windscreen system demonstrates the ability to continuously evolve and improve construction technology. [These] systems have increased production and safety onsite," says Chris Taylor, engineering manager for Hardwall.
Calgary's New Central Library
In the early 1960s, Calgary's old library was built for a city population of 400,000 people. Since then, growth in Calgary and the surrounding area to almost 1.5 million has necessitated a corresponding increase in the size of the library as well as a modernization effort.
For New Central Library, the city chose a prime location: one block east of City Hall in the burgeoning cultural hotspot of East Village. Providing approximately 22,297 m2 (240,000 sf) of usable library space (66 per cent more than the existing downtown library), NCL will host a collection of approximately 600,000 books, as well as special programs and spaces for children and teens, a technology commons and laboratory, and a centre supporting community integration and advancement through skills development.
The site is bisected by two significant corridors: an active light rail transit (LRT) line moving in a north-south arc, and the 8th Avenue pedestrian corridor running from west to east. The challenging design of the library, resembling a graceful ship sailing into the future, includes geometric exterior cladding and vast, open interior spaces. The project should be completed in 2018.

Control the content you see on ConstructionCanada.net!
Learn More.