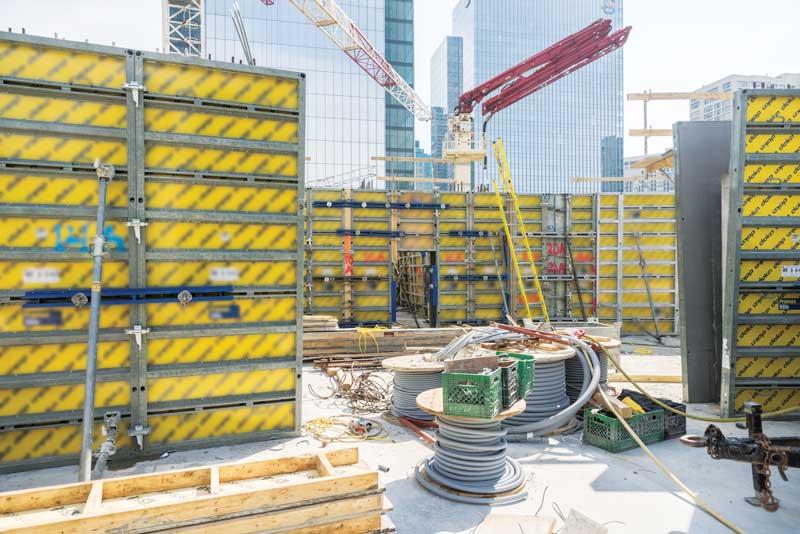 Formwork challenges
NCL will be a landmark building exemplifying design excellence, as well as a community space inspiring thought, collaboration, and conversation. The design is the greatest challenge on this project, given its very high slabs and architectural exposed walls and columns, which translate to a low amount of repetitive work. Therefore, most of the forming solutions implemented here are custom. Many of the project's steel and concrete components are built simultaneously and incorporated within each other.
The solution
For this design, it was necessary to provide a tieless formwork solution for the architectural columns and beams. The tieless solution eliminated concerns and potential conflicts with reinforcement steel and composite steel structural components. In addition, it provided a smooth final architectural concrete finish, as patching of holes from ties was eliminated. With this method, challenges introduced by complicated column cross-sections, large column heights, and stringent specifications on concrete finish requirements could all be met.
The formwork provider's team of engineers used 3D modelling from the architect to complete the execution and assembly drawings for the customer. Weekly meetings with the contractor, Stuart Olson Company, were required to stay atop ever-changing project demands and ensure the formwork solutions achieved a high-quality architectural concrete finish.
Conclusion
Specific engineering requirements introduced by innovative design choices can be met by involving the formwork company early in the process, and by working with its in-house engineers to find the best customized solution. The formwork company can also provide ongoing engineering and onsite support throughout the project to ensure the solutions are working. Ten York and NCL are two examples of groundbreaking structures where the architect, contractor, and formwork supplier must work closely together to achieve desired designs.
Effective column formwork can be used to tackle issues such as complicated column cross-sections, large column heights, multiple formwork reuse cycles, and tough specifications with regards to the concrete finish.
HOW TO CHOOSE THE BEST FORMWORK SYSTEM FOR A JOB
By working closely with the formwork provider right from the beginning, building professionals will be able to use formwork efficiently and to its full capacity. It is crucial to eliminate unplanned costs and delays by asking questions from the start and working with the formwork partner through every step of the project.

1. Evaluating total project needs.
Choosing the correct formwork for a project starts with reviewing the project and the design and site challenges. Does the design call for use of multiple types of formwork? Does the site necessitate work in close quarters without room for the formwork staging?

2.Development of cost-effective solutions.
To help determine the most efficient solution for a project, a contractor should evaluate several forming systems. It is best to rely on professional advice when selecting formwork to ensure a cost-effective system is chosen. Each concrete structure is unique, so there is no one-system-fits-all solution. Since formwork must be considered in the overall construction plan decision-making process, it is best practice to get the formwork supplier involved in early discussions.

3. Value engineering of project design.
Formwork specialists can draw up assembly and erection plans to suit specific requirements and preferences. This facilitates optimization of the formwork systems provided and helps ensure success onsite by saving time and cost and improving risk assessment.

4. Estimating total costs and schedule.
Contacting formwork suppliers as early as possible means the maximum amount of information can be included in the bid documents, providing a more accurate cost estimate.

5. Job-built versus equipment rental.
The decision of whether to build or rent equipment should be based on the duration of the project and the overall strategy of the construction company. Typically, if a form system has to be rented for more than eight to 10 months, purchasing it might be more economical.

6. Engineering design requirements.
Specific engineering requirements, such as a 60-day review period or specialized stamping of drawings, can be required in formwork specifications. If these are to be met and the project is to remain on schedule, specifiers should lay out a timeline with the supplier well ahead of time.

7. Development of a jobsite plan.
Effective development of a jobsite plan relies on communication between all parties, including the concrete contractor and the formwork supplier. All elements of the job and the formwork should be considered.

8. Management of equipment delivery and returns.
The formwork delivery must be timed so it is available onsite when needed. If the site has a limited assembly and storage area, formwork delivery and removal must be meticulously scheduled.

9. Assembly and inspection onsite.
It is essential to follow the engineering drawings for assembling and setting up the formwork. Not following setup instructions letter-by-letter can lead to accidents, unsafe working conditions, and unnecessary downtime.

10. Jobsite closeout.
A good formwork supplier makes jobsite closeout their job. Proper organization at the start of the project can simplify the closeout process.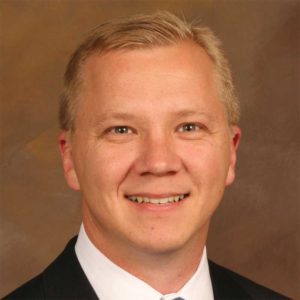 Michael Schaeffer is the vice-president of sales for Doka North and South America, and has been in the design/construction industry for more than 25 years. His career in formwork has included front line sales, operations, and organizational development, but his current responsibilities include sales management, product development, customer solutions, marketing, and project management. He can be reached at michael.schaeffer@doka.com.

Control the content you see on ConstructionCanada.net!
Learn More.