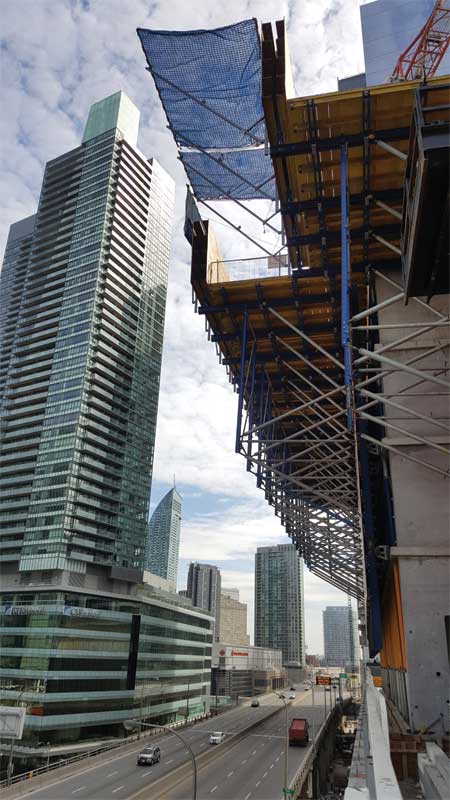 By Michael Schaeffer
The advent of innovative designs keeps prompting formwork manufacturers to come up with new and custom solutions to meet the needs of abstract projects. Contemporary architecture is dominated by complex geometries and ever-higher buildings, and the success of these projects depends largely on efficiency in the construction process. As architects continue to stretch the limits with design, contractors are making inventive use of formwork to allow these concrete structures to come to fruition. It is a team effort between architect, contractor, and formwork supplier.
Innovatively designed structures differ from standard ones not only in outside appearance, but also in structural design and construction methods. To meet the unusual demands of these designs, the market offers many formwork systems varying in technical function and price. In order to find the optimal formwork solution, factors such as cycle time, construction method, site equipment, and type of reinforcement must be taken into account during the planning phase. It makes sense to invest in a higher-quality system if it improves construction processes and results in savings of manpower, cost, and construction time. Selection of the appropriate formwork system results in crucial improvements to the construction workflow.
Determining the formwork
Consultation and expert support from the beginning can help professionals determine the formwork system best-suited for a job. This process should begin with an evaluation of the conditions known to be at the site. It is important to start contacting formwork suppliers and concrete contractors as early as possible in the design stage, so contractors can provide advice on the most economical construction methods and perform a detailed analysis of the site.
Given conditions vary for each project, there is no simple formula for choosing the right formwork system. Considerations affecting formwork selection include crane availability, access in and out of the site, and experience level of the available labour force.
When configuring the exact formwork to use, specialists can draw up assembly and erection plans to suit the project's specific requirements. With this specialized design method, time is not lost to poor planning, and professionals can work with greater certainty, having fewer interfaces to co-ordinate. A good formwork company will provide professional engineering services, recommending design changes to generate a more economical total project cost.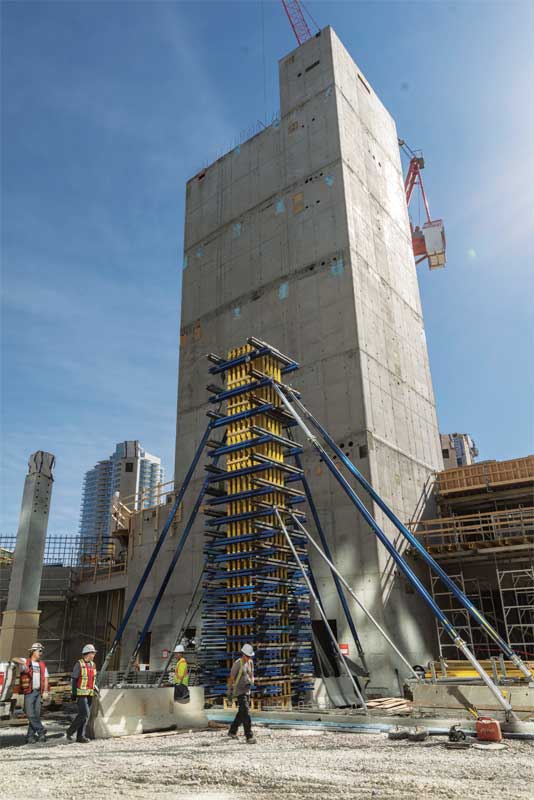 Engineering services can be crucial to formwork success. Ideally, value engineering involves helping the contractor make the right decisions about every aspect of formwork so costs are kept under control and risks can be assessed well in advance.
Innovative designs and specifications for formwork often dictate specific engineering requirements. These may include submittal requirements such as the design and stamping of drawings with calculations by a professional engineer registered in the province in which the project is being built—such submittals can require up to a 60-day review period.
To meet the timelines set out in the contract documents, a schedule with milestones should be laid out in advance with the formwork supplier. This way, professionals can be sure enough time has been allowed for potential revisions, and can avoid any delays to the start of the forming process. It is important to remember to include any submittal requirements in the process. More unusual designs may have more complicated requirements.
In response to the inventive building designs being produced, new formwork varieties are increasingly appearing on construction sites. Specific examples can be seen in two new structures—Ten York in Toronto and the New Central Library (NCL) in Calgary.

Control the content you see on ConstructionCanada.net!
Learn More.