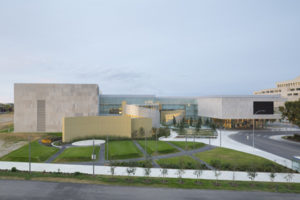 The recently-opened Royal Alberta Museum (RAM) in Edmonton wins the 2018 Canadian Design-Build Institute (CDBI) Design-Build Award of Excellence in the buildings category. The Vedder Bridge Replacement Project in Chilliwack, British Columbia, won in the major structural project category.
"It is a pleasure to highlight these design-build projects that not only got the job done in time and on budget, but include a high level of innovation," said Gary Bale, CDBI chair. "The results underscore the benefits of design-build—the team approach—as a project delivery method."
With the aim of changing the traditional perception of a museum, RAM was designed as a cultural learning and entertainment space. The project was completed on time with minimal change orders. The contract used was the CDBI-recommended Canadian Construction Documents Committee (CCDC) 14 – Design-Build Contract with a 'not-to-exceed' budget of $260 million. To promote an integrated design process, the project team co-ordinated their efforts using building information modelling (BIM) from the start of the submission. This facilitated evaluation of alternative solutions and element co-ordination.
The Vedder Bridge Replacement Project involved the replacement of a 1947-constructed steel girder bridge with one comprising wider traffic lanes and shoulders as well as two additional lanes. The design-build team lead by Emil Anderson Construction proposed an innovative approach to the construction of an arch design—an approach that controlled the cost and included the city's desire for a feature design. The city selected the winning team based on price (55 per cent) as well as design innovation (45 per cent). The designers, Klohn Crippen Berger, developed an innovative engineering solution for the erection of the new structure and demolition of the existing one, avoiding any in-stream temporary works. This minimized environmental impact and cost as well as made scheduling more reliable.