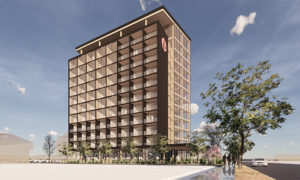 HDR is taking mass timber designs to new heights with the development of a new 82-suite, 12-storey structure for Ramada Hotel in Kelowna, B.C.
The City of Kelowna was an early adopter of British Columbia's new regulations allowing mass timber construction of up to 12 storeys.
The development will not only be the tallest mass timber tower in Kelowna, but also provide more centrally located hotel accommodations and pedestrian-friendly access to other amenities, HDR said in a press release.
The tower will be constructed using partial encapsulation and exposed cross-laminated timber (CLT), in addition to glue-laminated (glulam) timber. The new hotel will provide three different suite typologies with access via a single-loaded corridor, day-lit from the north and south. The development is divided between façade articulation and material treatments—distinguishing street-level retail amenities, the hotel's main lobby, and two penthouse suites, which are recessed from the main suite block on the west elevation. The façade's glass projection, which captures common space on each floor for guests to socialize, will showcase the innovative mass timber design and construction.
The proposed hotel is located on the southwestern portion of the existing hotel site, which is currently surface parking. The design team proposes to minimize disruption of the existing infrastructure by providing a small development presence. Despite the challenging footprint, the development will provide a landscape buffer on all sides in accordance with city requirements. As part of Kelowna's many green initiatives, the proposed development will provide four onsite vehicle charging stations and short- and long-term bicycle parking.
Construction is anticipated to commence in 2021.