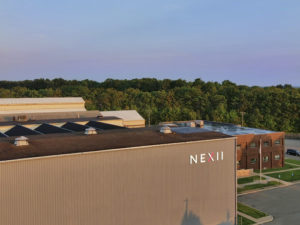 Vancouver's Nexii Building Solutions (Nexii) has expanded its manufacturing footprint across the border, with the opening of a new green materials plant in Hazleton, Pennsylvania. The facility manufactures sustainable building products made with Nexiite, a lower embodied carbon alternative to concrete.
Nexii panels are used to manufacture building products for industrial, residential, and commercial retail units (CRUs), as well as high-performance envelopes and retrofits to existing structures.
The company owns and operates plants to manufacture and distribute innovative, sustainable building solutions across North America. Due to the high demand for green building products, they also work with licensees, called Nexii certified manufacturers (NCMs), to develop and operate additional plants across the U.S. and Canada.
The Hazleton plant is the first NCM to open in the U.S. It is expected to produce up to 743,224 m2 (8 million sf) of Nexii panels per year, for green projects throughout the Northeastern region.
With implementation of these NCMs, Nexii continues to focus on accelerating the supply of sustainable buildings and building products, as well as expanding green construction across North America.