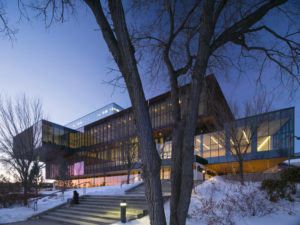 The Royal Architectural Institute of Canada (RAIC) and the Canada Council for the Arts (CCA) have announced the recipients of the Governor General's Medals in Architecture.
The biennial awards recognize and celebrate excellence in recently built—and designed—projects by Canadian architects. The 2020 competition continues a tradition initiated by the Massey Medals in 1950, providing a source of understanding of the nature of Canadian architecture and the regional, cultural, and historic forces expressed in the built environment.
The 12 projects represent a variety of building types and sizes—from a natural swimming pool to a performance hall.
The 2020 winners are:
Remai Modern (Saskatoon, Sask.) by KPMB Architects and Architecture49;
South Haven Centre for Remembrance (Edmonton, Alta.) by SHAPE Architecture with Pechet Studio and Group 2 Architects;
the Dock Building (Vancouver, B.C.) by MGA | Michael Green Architecture;
Polygon Gallery (Vancouver, B.C.) by Patkau Architects;
Borden Park Natural Swimming Pool (Edmonton, Alta.) by gh3 architecture;
Bahá'í Temple of South America (Santiago, Chile) by Hariri Pontarini Architects;
Drummondville Library (Drummondville, Qué.) by Chevalier Morales in consortium with DMA architects;
University of British Columbia Aquatic Centre (Vancouver, B.C.) by MJMA and Acton Ostry Architects;
the Springdale Library & Komagata Maru Park (Brampton, Ont.) by RDH Architects(RDHA);
Gilles-Vigneault Performance Hall (St. Jérôme, Qué.) by Atelier TAG  in consortium with Jodoin Lamarre Pratte architectes;
Lake Kawagama Retreat (Kawagama Lake, Ont.) by Shim-Sutcliffe Architects Inc.; and
RTC 03 (Edmonton, Alta.) by gh3 architecture.
"The 2020 Governor General's Medal in Architecture represent the best in contemporary Canadian architecture—and the projects explore unique aspects of culture, context, and materiality across the vast expanse of our country," said RAIC president John Brown, FRAIC. "They are a testament to the skill of the award-winning architectural firms and the tenacity of their clients who helped bring the poetic vision into reality. RAIC is proud to advocate for the quality of Canada's built environment by celebrating the work of these talented architects."