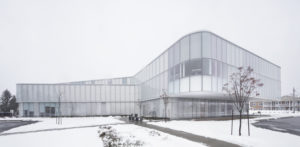 Originating from an architectural competition, the Drummondville Library project in Québec transposes the historical, cultural, and poetic essence of the region into a studied urban and architectural composition.
The architects, Chevalier Morales in consortium with DMA architectes, desired to work with the entire site. They considered the library building as part of a large, integrated civic complex within a park. The main objective was to use this project as a catalyst to reverse the growing isolation the site was facing as it was getting cut off the main commercial and human-scale avenue of the city. To address this problem, they engaged a dialogue between the other projects on the site: the skating rink, and the various components of the library.
The building envelope design stems from several considerations. First, the architects created a high-performance envelope in terms of sustainable development, appropriate for a library while ensuring a certain uniformity. Translucent glass panels cover a stainless-steel envelope, ceramic glass panels control solar gain, and transparent panels offer directed views of the site and provide natural light.
Secondly, a unique specificity was given to the envelope by embedding physical traces of Drummondville within the thickness of the envelope. The architects drew inspiration from the iron slag—the blue-tinted residue is a reminder of the first heavy industry in Drummondville. The milky appearance of this industrial by-product can also be associated to the whiteness of ice. At certain moments in the envelope, the use of perforated steel creates a bluish watermark behind the ceramic or translucent glass, a reminder of iron slag. Combined with the warmth of the worked wood in the staircase and the wooden floor on the second floor, the blue tint gives the envelope a unique dimension.