Gordie Howe bridge wins P3 award
November 21, 2019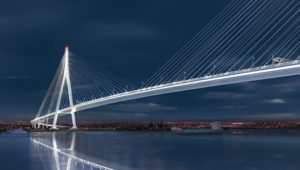 The Canadian Council for Public-Private Partnerships[2] (CCPPP) has chosen the Gordie Howe International Bridge[3] project and Tłı̨chǫ all-season road[4] as the 2019 'Gold Award Winners' of the National Awards for Innovation and Excellence in Public-Private Partnerships (P3s).
The winning projects showcase diversity across the country using P3s to deliver innovative infrastructure that best serves the economic and social needs of Canadians.
The Gordie Howe Bridge will be the longest cable-stayed bridge in North America and the first new major trade link between the United States and Canada in four decades. The binational and high-profile nature of this project posed some "interesting challenges" for the team to overcome from working with two different sets of codes, regulations, standards, taxation systems, and currencies to environmental issues and border security, the awards committee said.
The Tłı̨chǫ all-season road is a 97-km (60-mi) gravel highway which will link the remote northern community of Whatì with its neighbours in the Northwest Territories. It is among the first P3s in North America with an Indigenous government that has a cash-funded equity stake in the project.
The project is also notable for its unique approach to handling long-term risks related to climate change. The territorial government worked with its advisers and a climate specialist to develop a "bespoke climate change risk-sharing regime" using cutting-edge modelling, enabling the partners to more efficiently price their potential exposure to this risk for long-term operations and maintenance of a road constructed above the permafrost.
The 'Silver Award Winners' are the Library and Archives Canada's Gatineau 2 project[5], the new Toronto courthouse, and the Stoney CNG Bus Storage and Transit Facility.
Endnotes:
[Image]: https://www.constructioncanada.net/wp-content/uploads/2019/11/2019awards_gordie_howe.jpg
Canadian Council for Public-Private Partnerships: https://www.pppcouncil.ca/
Gordie Howe International Bridge: https://www.gordiehoweinternationalbridge.com/en
Tłı̨chǫ all-season road: https://www.inf.gov.nt.ca/en/TASR
Library and Archives Canada's Gatineau 2 project: https://www.constructioncanada.net/designs-unveiled-for-new-library-and-archives-canada-preservation-centre/
Source URL: https://www.constructioncanada.net/gordie-howe-bridge-wins-p3-award/
---