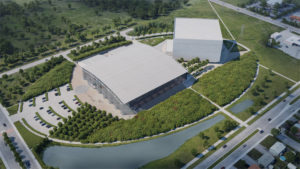 Designs have been revealed for a new flagship building for the Library and Archives Canada (LAC) in Gatineau, Qué. It will be located directly behind the current preservation centre.
The new centre will be one of the first 'net-zero carbon' facilities dedicated to archival preservation in the Americas, and the first federal building constructed to the requirements of Canada's Greening Government Strategy.
"This new, state-of-the-art preservation facility in the National Capital Region will help Canada remain a leader in the preservation and promotion of our invaluable documentary heritage," said Pablo Rodriguez, Canadian heritage and multiculturalism minister. "Our government is confident this preservation centre will solidify Library and Archives Canada's place at the forefront of preservation throughout the world, for the benefit of present and future generations."
The new centre will employ the main features of a net-zero carbon building such as:
minimal carbon emissions from energy consumption, achieved through building design and efficiency measures;
energy needs met through carbon-free fuel sources; and
minimal embodied carbon in building materials.
It will also be one of the world's largest preservation facilities equipped with a high-tech automated archive storage and retrieval system. This means the national collections will be kept under optimal preservation conditions.
Put forth by the Plenary Properties Gatineau (PPG), the proposal was selected for public-private partnership because it meets all of the required technical criteria and is cost-effective.
LAC and PPG will:
design, build, and finance the new building;
optimize storage space in the current preservation centre; and
operate and maintain both facilities.
The ultra-modern facility will increase LAC's capacity to store Canadian archives and resolve the shortage of space expected in the near future. Construction will begin later this year with the opening expected in 2022.