Glass tile made easy: Shattering the complexities of installation
January 1, 2020
by Pierre Hébert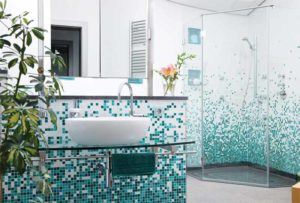 Originally inspired by Roman mosaics and stained glass art, contemporary designers continue to transform today's walls and floors with glass tile creations. An explosion of glass tile technology over the past decade has also produced variations in style and texture. No matter the glass tile's size, shape, thickness, surface finish, or backing, tile-setting mortar manufacturers have a solution for every installation.
Glass tiles are frost proof as well as resistant to heat, fading, and discolouration. Easy to clean and impervious to water and stains, glass tile is suitable for interior backsplashes, showers, swimming pools, fountains, and other outdoor decorative applications.
As the market for glass wall tiles flourishes, the popularity of glass tile floors also grows. Similar to laminate flooring, glass floor panels can be manufactured in any size, and can be produced in any colour or remain transparent.
Large-format glass tile rated for floors are usually textured to provide skid resistance and help hide scratches.
Variety is the spice of glass
Variations in shape, size, thickness, surface finish, and texture are all factors affecting the look and feel of a glass tile installation. These differences should be considered before the proper setting and grouting materials are selected.
Shape
While square is the most commonly manufactured glass tile shape, other geometric options include rectangles and polygons. Geometric shapes are typically used as border tile or decorative inserts while irregular, handmade pieces are more commonly used in mosaics or as decorative inserts. Rectangular pieces give the impression of width or height, while rarer-shaped octagons offer a unique appeal.
Size and thickness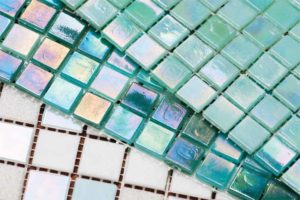 Glass tile can be custom ordered in any shape and size. Small glass tiles measure 25 x 25 mm (1 x 1 in.), 50 x 50 mm (2 x 2 in.), or 25 x 50 mm. While small tiles can be purchased individually, they are more commonly mounted in 305-mm (12-in.) squares with a mat backing or removable paper overlay.
Larger glass tiles measure anywhere from 102-mm (4-in.) squares, extra-large at 610-mm (24-in.) squares, and more. The standard thickness for glass tiles ranges from to 4.5 to 8 mm (3/16 to 5/16 in.), with thicker options offering the most intense colour. The use of glass tile any thinner than 4.5 mm is rare due to higher vulnerability of breakage during shipping and handling.
Surface finish
Glass tile finish can be glossy or etched. Since glossy finishes appear more luminescent, they tend to reveal manufacturing flaws, cracks, and scratches. While this makes them unsuitable for floors and countertops, glossy finishes are ideal for showers and pools. Etched finishes appear opaque, offer less brightness and subtler depth of colour, and are used in residential and commercial applications.
Texture
Whether the tile is flat, rippled, low, random, or relief, each texture creates its own visual interest. Flat and rippled textures offer reflective, pool-like qualities, flat-texture tiles have a smooth finish, and rippled textures 'ripple.' Low-texture tiles have small dimples of consistent depth across the surface. Random texture tiles feature irregular ruts and peaks, giving the tile a mottled appearance. Relief tiles are moulded into various shapes for use as borders and decorative inserts.
Five ways glass tile is born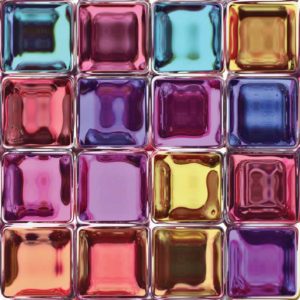 Glass tile is an impervious material differing vastly in composition from traditionally fired and pressed ceramic tile. There are five main methods of producing glass tiles. Since all glass is not created equal, a generic glass tile does not exist.
Fused tile
Fused glass methods begin by cutting flat glass (also known as standard clear or float glass) into tile shapes, which are then fired in a furnace at high temperatures. Colour is fused to the top or bottom of the tile, resulting in a translucent appearance with opaque colour showing through. Small-format fused glass tiles are often sold in paper or mesh-mounted sheets for ease of installation, and large-format fused tiles rated for floors must be textured to provide anti-scratch/anti-slip properties.
Cast tile
Cast tile is made by inserting chunks of glass into a mould and then heating them until the chunks melt into each other. Most recycled glass tile products are reborn through the cast tile method, resulting in a chunky, layered effect.
Smalti tile
The Smalti method refers to a silica-based (sand-based) glaze or paste in which metals and metal oxides are added for stabilization and colour before firing. Weather- and stain-resistant, colourful, and textured, Smalti tiles can be easily hand-cut into small-format tiles, making them a popular choice among mosaic artists. Modern mass-production Smalti methods result in identically sized small-format rectangular tiles. Variations in production allow Smalti tile to appear translucent (similar to stained glass), metallic (with the addition of a copper mineral), or gold (with the addition of a gold leaf) where colour is typically consistent throughout the tile. The textured surfaces of Smalti tiles make them suitable for both walls and floors, with bathrooms serving as a popular installation site.
Slumped tile
Slumped methods involve melting flat glass into a contoured shape, typically resulting in a curved-face tile with rounded edges. Slumped tile can be produced in small, medium, or large formats. It can serve as a primary floor or wallcovering, or be integrated with other types of tile as an accent feature. For even greater design appeal, its surface texture can be smooth or etched.
Sintered tile
In the sintered method, glass powder is pressed into dyes and then heated until the particles fuse. Colour is either added into the powder before firing or topically after cooling. Colour that is 'fired in' is not only stable, but also resists fading, delamination, and the effects of moisture and aging. Scratch-resistant, versatile, and uniform in colour, sintered tiles are commonly cut into small-format, square shapes.
Seeing glass tile clearly
Since each glass paste has its own properties, it is advisable to refer to the American National Standards Institute (ANSI) A137.2, American National Standard Specifications For Glass Tile, for information regarding types, size, and performance.
Glass tile manufacturers can choose whether their tile will be back-, edge-, or face-mounted or adhered directly to the substrate. Compatibility between the glass tile, its backing, and the chosen adhesive must be considered and also if the bonding material involves paper, fibre mesh, resin, or polyurethanes. With so many variations in glass tile products and backings, it is impossible to recommend a 'one-size-fits-all' glass tile installation method.
Six crucial aspects of installation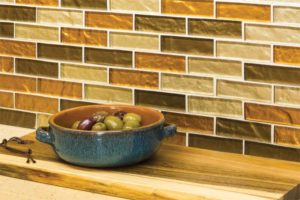 More vulnerable to chipping and cracking than ceramic, glass tile must be handled carefully and installed according to manufacturer specifications. Glass tile should never be placed in areas susceptible to sudden and extreme temperature changes. Similarly, installing glass tile in a sunny exterior location at risk for cold water shock would significantly increase the chance of tile breakage.
Whether the glass tile installation is interior or exterior, involving walls, floors, pools, or fountains, the following installation methods will optimize installation success.
1. Substrate preparation
Successful glass tile installations start with sound, solid, stable, and plumb substrates such as completely cured concrete, brick, masonry block, cement backer unit, and gypsum board (in dry areas only), along with many others. It is important to always check the glass tile manufacturer's specifications sheet for a complete list of approved substrates for each application. All installations should follow industry guidelines including ANSI A08.16, Installation of Paper- Faced, Back-Mounted, Edge-Mounted, or Clear Film Face-Mounted Glass Mosaic Tile.
Uneven surfaces (even loose sand left 'here and there' on the surface) may prevent proper transfer of the tile-setting mortar to the back of glass pieces. This can result in the loosening of some pieces over time. Therefore, a flawless surface preparation is recommended.
All crack and subfloor concerns must be addressed before installation to prevent existing or potential cracks from transferring through the glass tile. Manufacturers offer a number of surface preparation products including skim-coating and patching compounds and self-levelling underlayment to help prepare/level substrates for the installation of glass tile.
2. Addressing cracks
Protecting glass tiles from movement beneath may necessitate the installation of crack-isolation membranes over recommended substrates before the actual tile. It is important to always consult the recommendations of the Terrazzo Tile & Marble Association of Canada (TTMAC) and the tile manufacturer regarding glass tile installations over such membranes.
3. Account for joint movement
Since glass tile has a high degree of expansion and contraction, adequate movement joints are essential to help compensate for variable rates of movement between the substrate and tile. It is recommended to refer to current specification guide from TTMAC for proper placement of expansion and control joints.
4. Tile setting mortar selection
Premium tile products deserve premium adhesives. To avoid shading and to optimize the bond of glass tile to walls or floors, it is advisable to use white, polymer-modified, flexible thin-set adhesives, which have been shown to offer the best performance for glass tile products.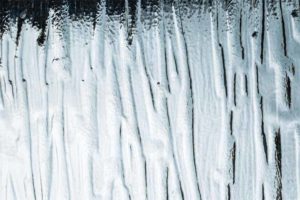 As stated in the Ceramic Tile Institute-America (CTIOA) report[6], "Direct Bond Thin Set Method Glass Mosaic Tile Over Exterior and Interior Portland Cement Mortar Beds (cured 7 days) and Cementitious Board Units (CBU)," "Keep installation surfaces out of direct sunlight, and wind, using screens, tarps, and canopies to reduce the problem of skinning over (slight drying of the setting material surface) during installation." Installations must also be protected from excessive heat, rain, and freezing temperatures during installation and curing.
Sheets of mosaic should be placed in position as accurately as possible and tapping the sheets gently using a beating block and a hammer or using a rubber float to achieve a flat surface as well as to maximize contact with the tile-setting mortar, gently but thoroughly.
5. Grouting products
Choice of grout is determined based on joint width and glass tile surface. For glass tile installations involving scratch-prone surfaces and narrow grout joints less than 3 mm (1/8 in.) wide, non-sanded grouts are recommended. Sanded grouts are suitable for glass tile surfaces not prone to scratching and for joints measuring 3 to 19 mm (3/4 in.) wide. Ready-to-use (RTU) grouts is also an option. For installations requiring a stain-, chemical-, and impact-resistant grout it is advisable to consider using reactive resin grout (typically epoxy type grouts).
Tile installation products should be mixed and applied as per the strict instructions contained in the respective technical data sheets.
6. Treating the surface with a sealer
Since glass tiles are impervious, they do not require sealer. However, cement-based grouts should be sealed if they are likely to experience stains. A penetrating sealer will help make future cleaning and maintenance of the grout easier.
Due to its reflective properties glass tile help intensify light and colour, brightening darker spaces and making the most of limited light. They offer the best of both worlds­—beauty as well as practicality.
GLASS TILES IN WALL INSTALLATIONS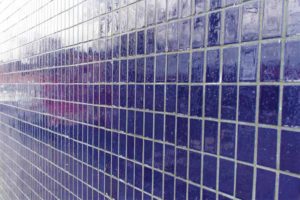 Since many large-format glass tiles are translucent, it is beneficial to achieve complete coverage for interior walls by back buttering each piece with white thin-set mortar immediately prior to setting it. This ensures voids and bubbles are not visible against the back of the glass tile (large-format glass tiles are defined as 76 x 76 mm [3 x 3 in.] or greater in size). It is important to note, large-format glass tiles can look substantially different after they are installed than when they are viewed as individual pieces. For this reason, it is recommended to create a sample board (or a jobsite mockup), installing several tiles using the selected mortar and grout.
For exterior wall installations, it is essential to use mortars specifically designed for setting opaque glass tiles meeting American National Standards Institute (ANSI) A118.15, Tile And Stone Mortars, and that are classified as at least C2S1 as per ISO 13007, Ceramic tiles — Grouts and adhesives — Part 1: Terms, definitions and specifications for adhesives. It is important to keep in mind, opaque glass tiles are not transparent or translucent, meaning one cannot see completely through the tile to the back side. The glass may be 'through-colour' or 'colour-coated clear' in design. It is advisable to use glass tile with caution with a decorative coating on the tile backing.
Selection of the proper grouting material is crucial. Glass tiles vary in hardness, and some can be scratched by grouts containing sharp aggregates like sand. It is pertinent to always use the type of grout recommended by the glass tile manufacturer.
Finally, movement joints are mandatory. It is imperative to consult detail 301 MJ from Terrazzo, Tile & Marble Association of Canada's (TTMAC's) Specification Guide 09 30 00, Tile Installation Manual, for more information.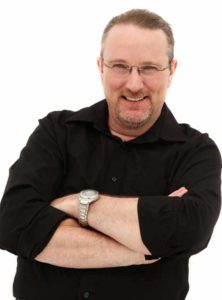 [8]Pierre Hébert is the manager of technical services for MAPEI Inc. and has provided product support to customers for 30 years. He is a member of the Montréal Chapter of Construction Specifications Canada (CSC), the American Concrete Institute (ACI), and has supported activities of the Society for Protective Coatings (SSPC). As a member on the board of directors of the Terrazzo, Tile & Marble Association of Canada (TTMAC), Hébert conducts technical research, chairs the Inspection Committee Report, and is the director of supplier division for the Eastern Region. He can be reached at phebert@mapei.com[9].
Endnotes:
[Image]: https://www.constructioncanada.net/wp-content/uploads/2019/12/AdobeStock_15724029.jpg
[Image]: https://www.constructioncanada.net/wp-content/uploads/2019/12/AdobeStock_112429791.jpg
[Image]: https://www.constructioncanada.net/wp-content/uploads/2019/12/AdobeStock_81968352.jpg
[Image]: https://www.constructioncanada.net/wp-content/uploads/2019/12/AdobeStock_118417137.jpg
[Image]: https://www.constructioncanada.net/wp-content/uploads/2019/12/AdobeStock_143877141.jpg
report: http://ctioa.org/wp-content/uploads/2016/10/fr93.pdf
[Image]: https://www.constructioncanada.net/wp-content/uploads/2019/12/AdobeStock_199022511.jpg
[Image]: https://www.constructioncanada.net/wp-content/uploads/2019/12/Pierre-Hebert.jpg
phebert@mapei.com: mailto:phebert@mapei.com
Source URL: https://www.constructioncanada.net/glass-tile-made-easy-shattering-the-complexities-of-installation/
---