Five ways glass tile is born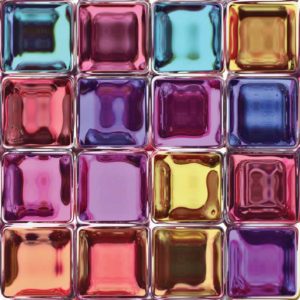 Glass tile is an impervious material differing vastly in composition from traditionally fired and pressed ceramic tile. There are five main methods of producing glass tiles. Since all glass is not created equal, a generic glass tile does not exist.
Fused tile
Fused glass methods begin by cutting flat glass (also known as standard clear or float glass) into tile shapes, which are then fired in a furnace at high temperatures. Colour is fused to the top or bottom of the tile, resulting in a translucent appearance with opaque colour showing through. Small-format fused glass tiles are often sold in paper or mesh-mounted sheets for ease of installation, and large-format fused tiles rated for floors must be textured to provide anti-scratch/anti-slip properties.
Cast tile
Cast tile is made by inserting chunks of glass into a mould and then heating them until the chunks melt into each other. Most recycled glass tile products are reborn through the cast tile method, resulting in a chunky, layered effect.
Smalti tile
The Smalti method refers to a silica-based (sand-based) glaze or paste in which metals and metal oxides are added for stabilization and colour before firing. Weather- and stain-resistant, colourful, and textured, Smalti tiles can be easily hand-cut into small-format tiles, making them a popular choice among mosaic artists. Modern mass-production Smalti methods result in identically sized small-format rectangular tiles. Variations in production allow Smalti tile to appear translucent (similar to stained glass), metallic (with the addition of a copper mineral), or gold (with the addition of a gold leaf) where colour is typically consistent throughout the tile. The textured surfaces of Smalti tiles make them suitable for both walls and floors, with bathrooms serving as a popular installation site.
Slumped tile
Slumped methods involve melting flat glass into a contoured shape, typically resulting in a curved-face tile with rounded edges. Slumped tile can be produced in small, medium, or large formats. It can serve as a primary floor or wallcovering, or be integrated with other types of tile as an accent feature. For even greater design appeal, its surface texture can be smooth or etched.
Sintered tile
In the sintered method, glass powder is pressed into dyes and then heated until the particles fuse. Colour is either added into the powder before firing or topically after cooling. Colour that is 'fired in' is not only stable, but also resists fading, delamination, and the effects of moisture and aging. Scratch-resistant, versatile, and uniform in colour, sintered tiles are commonly cut into small-format, square shapes.
Seeing glass tile clearly
Since each glass paste has its own properties, it is advisable to refer to the American National Standards Institute (ANSI) A137.2, American National Standard Specifications For Glass Tile, for information regarding types, size, and performance.
Glass tile manufacturers can choose whether their tile will be back-, edge-, or face-mounted or adhered directly to the substrate. Compatibility between the glass tile, its backing, and the chosen adhesive must be considered and also if the bonding material involves paper, fibre mesh, resin, or polyurethanes. With so many variations in glass tile products and backings, it is impossible to recommend a 'one-size-fits-all' glass tile installation method.

Control the content you see on ConstructionCanada.net!
Learn More.