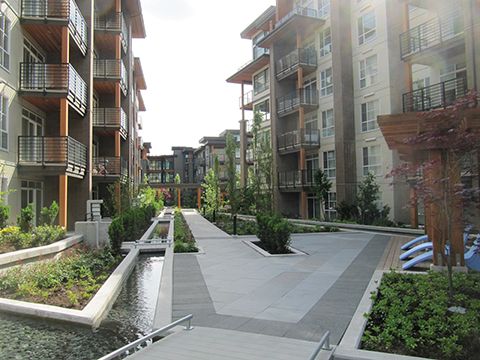 By Bob Marshall, P.Eng., BDS, LEED AP, and Brent Belanger, CTR
Mid-rise construction has taken hold as cities across Canada seek new ways to accommodate growth in urban populations. Recent provincial and municipal codes and pending national code changes are allowing a more affordable path for mid-rise construction. Specifically, codes are innovating fire-protected wood frames (timber) for five- and six-storey buildings.
British Columbia was the first province to allow this, followed by Québec, Ontario, and the City of Calgary. It is widely anticipated the 2015 National Building Code (NBC) of Canada will allow wood-frame construction for mid-rise buildings up to six storeys.
The authorization of wood-built mid-rise structures is a boon for specifiers in search of sustainable materials that fit the budgetary constraints of their clients. From a cost perspective, wood-frame construction is a significantly more economical alternative to poured concrete for mid-rise buildings. The "Unlocking the Potential for Mid-Rise Buildings: Six-Storey Wood Structures" report, commissioned by the Building Industry and Land Development Association (BILD), and authored by the former City of Toronto chief planner, estimates wood can bring a cost savings of about $300 to $400 per square metre ($30 to $40/sf), or up to 20 per cent over steel and concrete. It estimates approximately $20,000 to $25,000 can be saved on a 92-m2 (1000-sf) building. As a result, mid-rise construction in desirable, often pricey neighbourhoods is a more affordable prospect for property owners, developers, and home-buyers. Over 250 mid-rise projects have been completed in British Columbia since 2009 when the province first began allowing wood-frame construction for six-storey structures. The same report estimates mid-rise buildings could house up to 100,000 people in the Greater Toronto Area (GTA) in the future.
The key to these new and pending building codes, of course, is a wood-framed mid-rise is only as good as the materials surrounding it. To keep a wood-built structure's bones strong, it is essential architects specify 'smarter' skins during the design phase of all projects. The smarter the skin, the higher the quality and the stronger the bones, which enhances safety, indoor environmental quality, and durability for the long term.
Gypsum board, a mostly natural material, can be a suitable element for meeting new mid-rise building codes. It is popular for mid-rise wood-framed buildings in particular, because it can help protect wood from both moisture and fire. Currently, gypsum board is the most specified product for exterior sheathing and interior finished surfaces in Canada, making the country among the highest per capita users of gypsum in the world. It has a strong history in Canada's residential and commercial construction practices, and is now being looked to for protection of the frames of new mid-rise buildings, thanks in part to recent innovations and new technologies.
Gypsum at its core
Gypsum is an abundant and locally sourced material in North America. It is found in sedimentary rock formations in a crystalline form that is known as calcium sulfate dihydrate (CaSO4 2H20). About 45 kg (100 lb) of gypsum rock contains about 9.5 L (10 qt) of chemically combined water.
Gypsum is first mined or quarried, and then trucked to a manufacturing facility. Once at the plant, the mineral is ground into a fine powder and heated to remove 75 per cent of its water in a process called calcining. The calcined gypsum (CaSO4 ½H20) is used as the base for gypsum board and related products. It is mixed with water and additives to form slurry, which is fed between continuous layers of paper on a board machine. As the board moves down the conveyer line, the calcium sulfate recrystallizes, chemically combining with the water removed during calcination to revert to its original rock state. The paper becomes bonded to the core. The board is then cut to length and moved through dryers to remove any free moisture.
Gypsum board is most often faced with paper or fibreglass mats. Whether specified for use as an exterior sheathing or interior drywall, gypsum board is a popular choice in mid-rise buildings due to its water-resistance, air barrier tightness, air-cleaning, acoustical, and fire-resistant properties, as explored later in this article.

Control the content you see on ConstructionCanada.net!
Learn More.