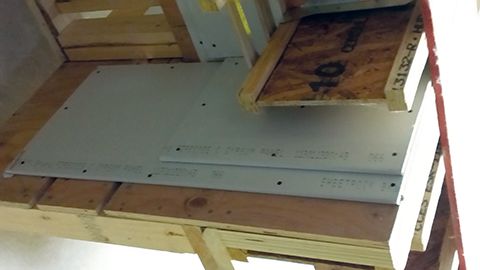 Passive fire-resistance
In North America, gypsum board is the most commonly used interior finish where fire resistance classifications are required. This is because the material is naturally fire resistant and provides passive fire safety, which bodes well for wood framing.
During the manufacturing process when raw gypsum is turned into gypsum board products, the chemically combined water contributes to its effectiveness as a fire barrier. When structural members protected by gypsum board are exposed to fire, the water is slowly released as steam, slowing heat transmission and acting as a fire barrier until most of the chemically combined water is eliminated. The temperature directly behind the plane of calcination is only slightly higher than boiling water or 100 C (212 F), which is below the temperature when lumber ignites or steel begins to lose its strength. Once the gypsum is completely calcined the residue acts as an insulating barrier to the flames.
Tests conducted in accordance with CAN/ULC S102, Standard Test Method for Surface Burning Characteristics of Building Materials, further show gypsum board has a low flame-spread index and a low smoke-density index. When installed in combination with other materials in laboratory-tested wall and ceiling assemblies, gypsum board helps protect building elements from fire for prescribed periods.
There are two basic classifications of gypsum board core formulations that lend different degrees of fire resistance. These are Standard and Type X gypsum board. Fire-rated drywall referred to as Type X must be third-party certified by an independent testing and listing agency such as ULC to meet the fire performance requirement prescribed in Canadian Standards Association (CSA) A82.27, Standard Specification for Gypsum Board. Type X fire-rated gypsum drywall is 16 mm (5/8 in.) thick and installed on each side of nominal 38 by 89 mm (1½ x 3½ in.) wood studs spaced 400 mm (16 in.) on centre (o.c.) or 610-mm (24-in.) o.c. spaced steel studs. This has a minimum fire rating for the assembly of one hour, which is a typical requirement for many building codes. The Type X Shaftliner is 25 mm (1 in.) thick and is used in special shaftwall and area separation firewall assemblies.
A third classification is Type C or Improved Type X. This gypsum board is similar in composition to Type X, except it has more glass fibre reinforcement and other ingredients in its core that make its fire-resistive properties superior to Type X. Type C boards are available in 12.7 mm (½ in.) and 16 mm (5/8 in.) thicknesses.
Gypsum assemblies have become a common lighter alternative to traditional masonry methods for fire protection, reducing the overall complexity of a construction project. Additional scaffolding, formwork, and specialty trades are often required for masonry and may not be specified on other projects. Gypsum fire separation system installation is often co-ordinated through the drywall contractor.
Acoustics
The acoustical benefits that come with gypsum materials should not be overlooked. Preventing the transfer of unwanted sound between rooms is a priority in any construction project, though to different degrees depending on how the space will be used. Gypsum board, as well as gypsum ceilings, are effective sound transmission controllers. Some gypsum board and ceiling products are made specifically for heightened acoustical performance. Wallboard assemblies with a 50 or 55 Sound Transmission Class (STC) are required in residential buildings.
A new Apparent Sound Transmission Classification of ASTC of ≥ 47 in the 2015 Canadian codes addresses flanking acoustic paths.
Conclusion
Gypsum boards are just one part of smarter exterior skins and interior solutions for mid-rise construction, but they are important considerations, nonetheless. The versatility of gypsum helps architects and specifiers address critical design requirements in water resistance, airtightness, IAQ, fire resistance, acoustics, and more. Understanding this is the first step. The next is specifying the right products early in the design phase. After all, one can only build a mid-rise skeleton once.
Bob Marshall has more than 35 years of experience as a specialist in predesign, design, and construction of energy efficient durable building skins for all types of buildings. He has worked on over 50 LEED-projects and is co-author of the LEED Durable Building Credit. Marshall is the building science manager for CertainTeed Saint-Gobain Canada. He has been appointed by the National Research Council (NRC) to the Standing Committee on Energy Efficiency in Buildings. Marshall can be reached via robert.marshall@saint-gobain.com.
Brent Belanger, CTR, has almost 30 years of experience with manufacturers in the design/construction industry. He is the architectural services manager for CertainTeed Gypsum & Insulation Canada. Belanger can be reached at brent.belanger@saint-gobain.com.

Control the content you see on ConstructionCanada.net!
Learn More.