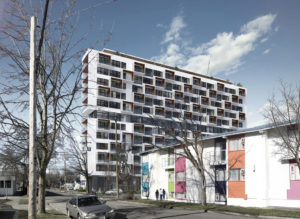 Rethinking conventional development in the heart of Victoria, B.C., D'Ambrosio Architecture and Urbanism propose two mass timber multi-family residential buildings over one level of underground parking called Speed Frances.
The project is being built for Mike Geric Construction and the team also includes Aryze Developments.
The west building will be a 12-storey mass timber market mid-rise containing 179 homes. The east building will be a six-storey wood-framed building with 66 homes featuring an affordable home ownership component. Both buildings are of different scales yet have a shared architectural expression, characterized by richly coloured brick-clad bases and luminous warm white façades. The main site frontage has been designed to retain and complement the London Plane trees that form the character of its neighbourhood street.
A portion of the six-storey building will provide affordable homes to those who qualify based on household income. In partnership with BC Housing, this approach aims to introduce diverse and inclusive housing options to Victorians.