Fire-resistive glass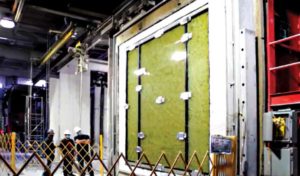 Fire-resistive glass is tested to CAN/ULC S101, Standard Methods of Fire Endurance Tests of Building Construction and Materials, and is designed to compartmentalize smoke and flames and limit radiant heat transmission. Unlike fire-protective glass, there are no size or application restrictions for fire-resistive glass. When paired with an equally rated fire-resistive framing system, it can be used in wall-to-wall and floor-to-ceiling applications because it is considered a "transparent wall," allowing for maximum clear views.
Fire-resistive glass is marked with a W for "walls," and the fire endurance rating is also on the label. It may look like a window or an opening, but the code recognizes this type of material as a wall. It can be used in place of gypsum or masonry where a one- or two-hour fire resistance rating is required. But, unlike gypsum or masonry walls, fire-resistive glazing is transparent—giving additional benefits such as vision, daylight, and direct lines of sight.
Examples of fire-resistive glass include fire-resistive tempered glass and multilaminate glass. During a fire, the intumescent interlayers expand and react to the heat to form a solid wall, effectively containing smoke and flames and significantly limiting the transmission of radiant heat. This gives building occupants a safe path of egress or a haven where they can await rescue.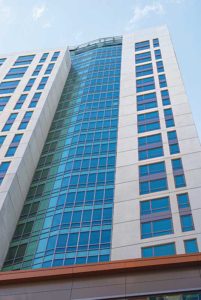 National Building Code requirements on exterior fire-rated walls
The NBC provides guidelines on the application of fire-rated glazing for exterior applications. Here are some useful sections:
Section 3.1.7.1., Determination of Ratings
1) Except as permitted by Sentence (2) and articles 3.1.7.2 and 3.6.3.5., the rating of a material, assembly of materials, or structural member that is required to have a fire resistance rating, shall be determined on the basis of the results of tests conducted in conformance with CAN/ULC S101.
 Section 3.1.7.2, Exception for Exterior Walls
1) The limit in the rise of temperature on the unexposed surface of an assembly as required by the tests referred to in Sentence 3.1.7.1. (1) shall not apply to an exterior wall that has a limiting distance of 1.2 m or more, provided correction is made for radiation from the unexposed surface in accordance with Section 3.2.3.1. (9).
When it comes to exterior applications, spatial separation requirements exist to limit the spread of fire from one building to the next. The City of Saskatoon issued a useful bulletin on the determination of spatial separation requirements:
"Requirements are determined through the application of Subsections 9.10.14 and 9.10.15 for buildings falling within the scope of Part 9 of the NBC, and Subsection 3.2.3 for buildings within the scope of Part 3. Buildings are permitted to have a proportion of openings in an exterior [wall] based on limiting distance and size of the exposing building face. The closer an exposing building face is to a property line or the face of another building, the higher the fire-resistance rating required for that building face and the more stringent the construction requirements for that exterior wall."
In the same bulletin, limiting distance is defined as "the distance from an exposing building face to a property line, the centre line of a street, lane or public thoroughfare, or to an imaginary line between two buildings or fire compartments in the same property, measured as right angles to the exposing building face." Limiting distance covers all materials used in the exterior—including fire-resistive glass.
Since non-rated glazing does not protect against the spread of fire from one building to the next, the NBC imposes limitations on its use. Section 3.2.3.1, Limiting Distance and Area of Unprotected Openings, outlines the allowable number of doors, windows, and other openings forming the part of the exposing building face which have a fire resistance rating less than what is required. Section 3.2.3.1. has four tables designers can refer to in determining the area of unprotected openings on the exposing building face based on limiting distance: Table 3.2.3.1.-B and 3.2.3.1.-C for Unprotected Opening Limits for a Building or Fire Compartment that is Not Sprinklered Throughout; and Table 3.2.3.1.-D and 3.2.3.1.-E for Unprotected Opening Limits for a Building or Fire Compartment that is Sprinklered Throughout.
In addition, Table 3.2.3.1.-A for Maximum Concentrated Area of Unprotected Openings provides some guidance with regards to the size of individual panels:

Control the content you see on ConstructionCanada.net!
Learn More.