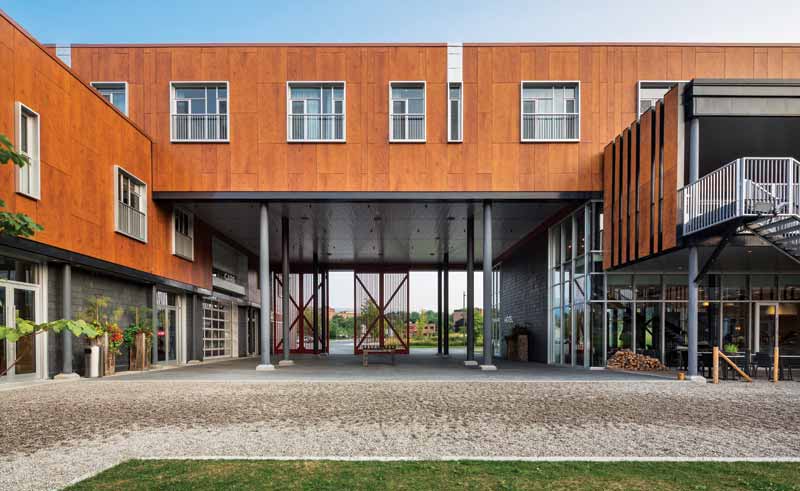 Embodied energy
Façade systems are generally produced using durable materials with lower embodied energy. Crafting environmentally responsible products and policies is not new to this industry, but the concept of lower embodied energy is less known.
Embodied energy has two components: initial and recurring. Initial embodied energy is the energy needed to fabricate a product and place it where it belongs. On the other hand, for products that do not last, recurring energy is required to maintain or replace them. This is a crucial concept relating to sustainable materials on the subject of environmental conservation.
Several façade materials could be considered to have low embodied energy. In the case of cement, for example, this applies to high-density fibre cement. Other types of materials that can fall into this category include phenolics, ceramics, porcelains, and some metals.
Fibre cement
Fibre cement has been around since the early 1900s. It can be compressed to a high density and is composed of a few raw materials: Portland cement, water, natural fibres, and sand. Most high-density fibre cement panels are unique, displaying the raw, untreated texture of the base material. Life expectancy is at least 50 years. To diminish the environmental impact of manufacturing practices, some manufacturers of fibre cement have worked to remove trucks from the distribution chain in favour of using local waterways. They can also reuse waste and water, and doing so does not seem to sacrifice the product's esthetic quality or ability to address various types of architecture. In particular, fibre cement seems to suit edgy and contemporary designs.
Phenolics
Phenolics are another type of material well suited to engineered exterior façades. Robust and resilient, these rigid homogenous panels are manufactured using tough thermosetting resins reinforced with cellulose fibre for added strength and durability. Some panels have a decorative surface on both sides. Interestingly, some manufacturers of phenolic panels now integrate real wood veneer. This is not a high-pressure laminate skin, but a real wood veneer skin, which means each panel is visually different. This type of product can enjoy the benefits of a natural, organic esthetic, and at the same time—in keeping with the consideration of embodied energy—it requires little recurring energy for maintenance.
Reuse and recycling of waste is an important aspect of manufacturing these systems that cannot be left out, bearing in mind the flexibility of the product to address various types of architecture. Designers and specifiers should also be looking for companies with sustainable forest management at heart. Specifically, International Organization for Standardization (ISO) 14021, Environmental labels and declarations—Self-declared environmental claims, and ISO 14001, Environmental management systems, can apply to forest management systems.

Control the content you see on ConstructionCanada.net!
Learn More.