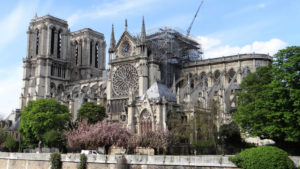 The day after a massive fire destroyed the oak-beamed structure of the Notre Dame and collapsed its spire, French President Emmanuel Macron promised the nation the historic cathedral would be rebuilt—and be "more beautiful than before"—within five years, a timetable many experts consider impossible.
Now the French newspaper Le Figaro has published a lengthy missive signed by 1169 academics and curators urging the president not to speed through what could be a very difficult process, reports ARTnews.
"Let us take the time to diagnose," reads the letter, which was published on Sunday, April 28. "A number of [experts] can be found in your administration, in the Ministry of Culture. Let us remind you of their expertise, take the right path to find them, and then, yes, set an ambitious deadline for an exemplary restoration not only for the present but also for generations to come."
Macron vowed to complete the cathedral's restoration in time for the Paris Olympics in 2024. Later in the same week, France's Prime Minister Édouard Philippe announced an international architectural competition to redesign the cathedral's destroyed spire.