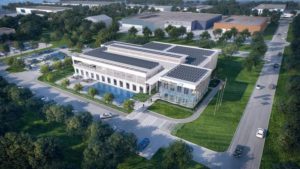 Endress+Hauser Canada, an industrial equipment supplier, is building a new $28 million customer experience centre in Burlington, Ont., that will emphasize on sustainability.
The two-storey, 4366-m2 (47,000-sf) building is aiming for the Leadership in Energy and Environmental Design (LEED) Gold certification and to function on net-zero carbon and net-zero energy bases.
The building will be off the hydro grid. Plans to achieve net-zero energy and emissions include using a reflective roof with double-sided solar panels to generate electricity during the day. At night, most electrically powered systems like video monitors will be turned off, and the building environment will be maintained by heat pumps supplemented by a geothermal system.
"Our goal is to create an exceptional facility in all respects that will not only be sustainable on the day it opens, but will still be considered as such decades from now," says Anthony Varga, CEO of Endress+Hauser Canada.
For employees, the new headquarters built on a 2-ha (4-acre) site will feature two cafés, health and fitness, wellness, and multi-faith prayer rooms. There will be an atrium with a live, full-sized tree for both esthetic enhancement and oxygenation, and an outdoor terrace.