by Jim Taggart, FRAIC

In 2009, the British Columbia Building Code (BCBC) was amended to permit residential buildings of up to six storeys to be constructed in wood. Since then, through a continuous process of consultation and research, the potential for expanding these provisions to other building occupancies has been under consideration at the national level.
Changes introduced in the 2015 edition of the National Building Code of Canada (NBC)—when it is adopted by the provinces—will expand these provisions to office-type buildings, but also permit mixed-type occupancies on the first two storeys. As a result, wood buildings may now include office, residential, mercantile, assembly, low-hazard, or storage/garage-type uses. As of 2018, such buildings have been permissible under BCBC.
This article examines two wood buildings, both with primary retail, commercial occupancies, but employ different mass wood products to achieve varied effects. A more in-depth look at these projects can be found in a new case study released by the Canadian Wood Council/Wood WORKS! BC.
Askew's Uptown Supermarket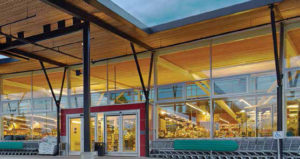 Located in Salmon Arm, B.C., a city of about 20,000 residents midway between Vancouver and Calgary, Askew's Uptown Supermarket is the first phase in a new mixed-use development that is destined to become the commercial heart of a fast-growing residential neighbourhood.
The high side of the sloping site borders a frontage road paralleling the Trans-Canada Highway. This slope presented challenges in establishing suitable grades for buildings with large floor plates and for engineering conventional approaches to vehicular access. In response, Allen+Maurer Architects (who also created the master plan for the site) inverted the usual suburban supermarket arrangement. Instead of a box surrounded by parking, they pushed the 3000-m2 (32,291-sf) building to the edge of the site, tucking it into the slope. As future phases are completed, they will frame a village square at the centre of the site.
The supermarket's design responds to priorities of the client, the needs and aspirations of the community, and the materials and construction expertise available in the region. The forest products industry has been a traditional mainstay of the local economy, although it has recently experienced a decline. With family roots in the forest industry, architect Chris Allen saw this project as an opportunity to fight back. Similarly, as a service provider to that industry for several generations, Askew's Foods wanted to make its project a statement of community support by maximizing the use of local wood products and labour.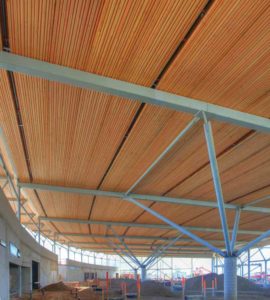 The resulting building is both simple and elegant—a radial plan generated from the centrepoint of the future town square, slender concrete and steel tree columns for maximum flexibility, a fully glazed front façade, and a vast 'floating' wood roof was constructed using nail-laminated box beam elements prefabricated from locally sourced wood.
With a design snow load of 0.5 psi (3.5 kPa), a traditional wood roof for a building of this scale would have consisted of glue-laminated (glulam) beams and purlins with heavy timber decking above. Such a roof would have required considerable depth, and the lattice of heavy timber members would not have achieved the floating effect desired by the architects. Additionally, for consistency of appearance, the tapering structural bays would have required glulam beams of equal depth, despite variations in span from 5 to 10 m (16 to 31 ft).
Instead, for economy, efficiency, and improved esthetics, structural engineers Fast + Epp designed the 3000-m2 roof of the building as a series of 1200-mm (47-in.) wide nail-laminated timber (NLT) box panels, supported on a primary structure of steel beams. These beams rest on tubular steel branches that spring diagonally from cylindrical concrete columns as noted above. Lateral resistance in the vertical plane is provided by steel cross-bracing along the south wall, long shear walls on the east and west sides, and two short sections of shear wall on the north side of the building.

Control the content you see on ConstructionCanada.net!
Learn More.