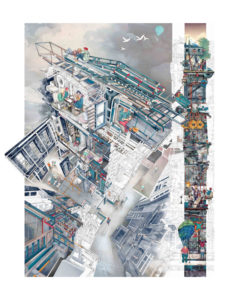 The World Architecture Festival (WAF) is accepting submissions for the second edition of The Architecture Drawing Prize. Launched in 2017, the prize is conceived to celebrate and showcase the significance of drawing as a tool in capturing and communicating architectural ideas.
The prize embraces the creative use of digital tools and digitally produced renderings, while recognizing the importance of hand drawing. The organizers, which include Make Architects and Sir John Soane's Museum, are inviting entries of all types and forms: from technical or construction drawings to cutaway or perspective views, and anything in between. Drawings may, by varying degrees, be entirely speculative or relate to real projects.
"When we decided to create The Architecture Drawing Prize we wanted to celebrate the art of drawing and put it back at the heart of architecture. New technology has changed so much about how we design buildings, but the drawing conveys something truly unique. It should not be lost or replaced, but be part and parcel of the architectural process," says Ken Shuttleworth, founder of Make Architects.
Entries are welcomed by architects, designers, and students from around the world. The inaugural prize in 2017 attracted 166 entries from across the globe, with 60 percent of the short-listed entries submitted by entrants aged 30 and under.
Entries are now being accepted across the following three categories:
hand drawing;
digital drawing; and
hybrid drawing.
Submissions will be evaluated on the basis of their technical skill, originality in approach, and ability to convey an architectural idea, whether for a conceptual or actual building project.
The winners will be announced in October, and will be on display at a dedicated exhibition at the Sir John Soane's Museum in London from October 17 to November 18.
The category winners will each receive a delegate pass for WAF in Amsterdam from November 28 to 30.
Judges include artists Ben Langlands and Nikki Bell (Langlands and Bell), Owen Hopkins (Soane Museum), Ken Shuttleworth (Make Architects), Narinder Sagoo (Foster & Partners), and Jeremy Melvin (WAF).
The winner of the inaugural prize in 2017 was Momento Mori: a Peckham Hospice Care Home by Jerome Xin Hao Ng (United Kingdom).