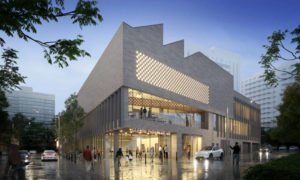 The Guelph Public Library board of directors has approved the schematic design for the new Central Library recently presented by Diamond Schmitt Architects, including interior and exterior renderings.
The schematic design illustrates the basic elements and layout of the proposed library design. It will now be refined and finalized through subsequent design phases.
The library's exterior design features an expressive roof form that exposes third-floor collections and reading rooms to glare-free natural northern light. It also exposes them to east and west façades that protect outdoor reading terraces while allowing dappled light to enter indoor collection areas.
Also included in the design is a highly transparent ground floor that blurs the boundaries between indoor and outdoor space and brings life to the street level through a highly animated children's area, which can be seen from the public square and surrounding street network.
The approved schematic design was informed by input gathered over two years of community engagement and addresses the broad range of needs identified by people in Guelph, including naturally lit open and private meeting spaces with connections for audio and video sharing, a cutting-edge makerspace with technology available to all, catering amenities, space for the library's significant archives collection and a place for people to gather, celebrate, listen, read, and learn.
The new library is part of the Baker District redevelopment project, a collaborative partnership between the City of Guelph and Windmill Development Group.
Detailed design is now underway with construction expected to start in late 2023. More designs will be shared as they are developed.