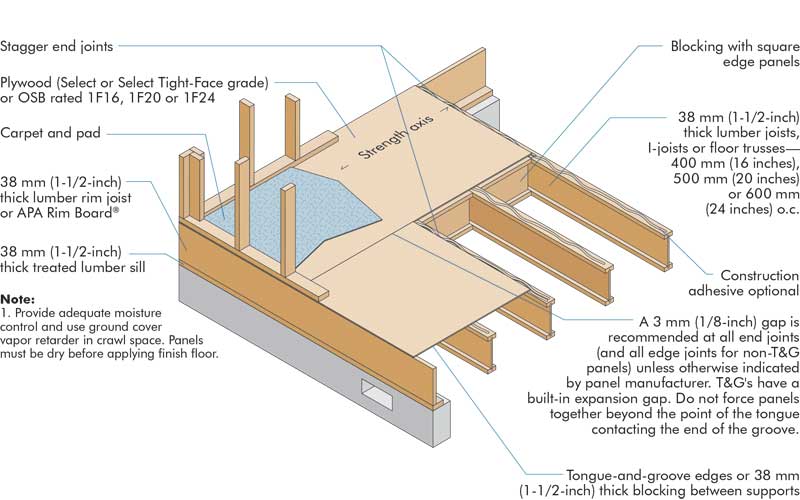 Combined subfloor/underlayment panel under carpeting and pad
APA-trademarked OSB (1F span-rated) and plywood (Select or Select Tight-face grade) are available as tongue-and-groove panels; they are suitable for use in single-layer floor construction beneath carpeting and pad (Figure 3). These materials provide the cost-saving and performance benefits of combined subfloor-underlayment construction.
Glue-nailing is recommended for single-layer flooring panels, as it provides a more consistent bond between the subfloor panels and their supporting members. (Panels may be nailed only, but this would increase the potential for squeaks and nail pops.) One should always protect smooth panel faces and tongue-and-groove edges from damage prior to and during installation. The materials are installed with their smooth side up.
Although tongue-and-groove plywood (Select or Select Tight-face) or OSB (with 1F designation) is suitable for direct application of carpet and pad, an additional thin layer of underlayment is recommended under fully adhered carpet and resilient flooring such as vinyl sheet and vinyl tile.
Underlayment is required under ceramic tile applied with adhesive. This added layer provides a smooth surface over panels that may have been scuffed or roughened during construction. It also serves to compensate for differences between thinner-finish flooring (e.g. vinyl sheets) and thicker finish floors (e.g. hardwood), making for a more level transition between different floor finishes. The touch-sanded surface of Select or Select Tight-face grade of tongue-and-groove plywood is also suitable for direct application of resilient floorcoverings.
When a sanded face panel is to be used, care must be taken during construction to prevent it from being damaged or roughened. Tongue-and-groove edges are recommended to be glued under thin floorcoverings to ensure snug joints.
If the subfloor has become wet during the construction, it should be allowed to dry before the installation of underlayment material or the application of a floorcovering such as carpeting, hardwood flooring, and ceramic tile. After it is dry, the floor should also be checked for flatness, especially at joints.
When floor members are dry, one must ensure fasteners are flush with or slightly below the surface of the panel before thin floorcoverings are installed. Fasteners should be set if green framing will present nail-popping problems upon drying. Further, nail holes should not be filled.
To minimize the chance of floor squeaks, installers should press panels tightly onto joists by standing on the panel over the joist next to the nailing point. Edge joints need to be filled and thoroughly sanded—however, this may be unnecessary under some carpet and structural flooring products (recommendations should be obtained from the flooring manufacturer). Any other damaged or open areas (e.g. splits) must be filled, with all surface roughness sanded. The fill compound must have fully cured before sanding because it may not have finished with its expansion.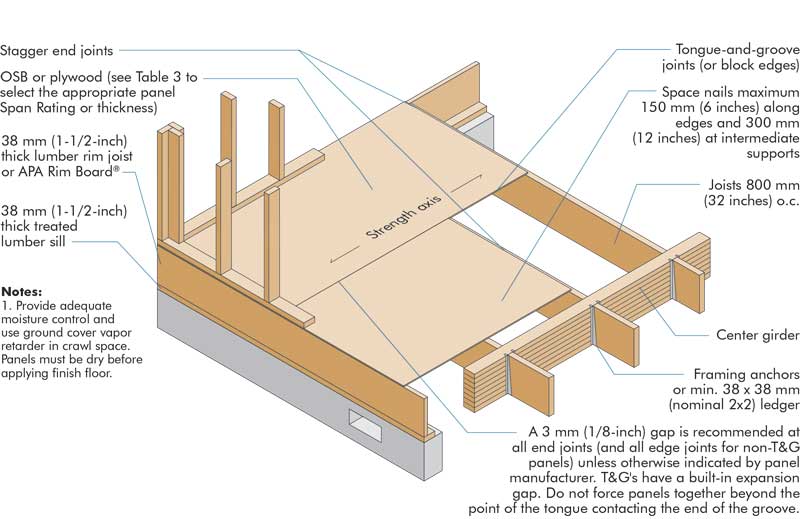 Thick flooring panels
Part 9 of NBC contains prescriptive subfloor requirements for joists spaced up to 600 mm (24 in.) on centre (o.c.). A qualified design professional, following the performance requirements of Part 4 of NBC, is required to design subfloors with spacing greater than 600 mm (24 in.), as shown in Figure 4.
Tongue-and-groove plywood (sheathing, Select or Select Tight-face grade) or 1F-rated OSB should be installed 800 mm (32 in.) o.c. over 38 mm (1 ½-in.) wide joists or I-joists. Panels should be spaced 1200 mm (48 in.) o.c. over 89 mm (3 ½-in.) thick girders. For the 1200-mm (48-in.) o.c. method, supports may be 38-mm wide joists spiked together, 89-mm thick lumber, glulam, structural composite lumber (SCL), lightweight steel beams, or wood I-joists or floor trusses. Girders of doubled 38-mm members should have top edges flush to permit smooth panel end joints.
For a low profile with supports 1200 mm o.c., beams can be set in foundation pockets or on posts supported by footings so subfloor panels bear directly on the sill. If 89-mm wide lumber girders are used, they should be air-dried and/or set higher than the sill to allow for shrinkage. It is important to note the lumber floor joist systems are incompatible with SCL or I-joist floor systems in joist depth; they should not be mixed in the same floor systems, as their standard dimensions are different.
In some applications, particularly in hallways and other heavy-traffic areas, greater stiffness in the floor may be desirable. Modifications to the 1200-mm framing system, such as addition of straight or diagonal blocking, will increase stiffness considerably.

Control the content you see on ConstructionCanada.net!
Learn More.