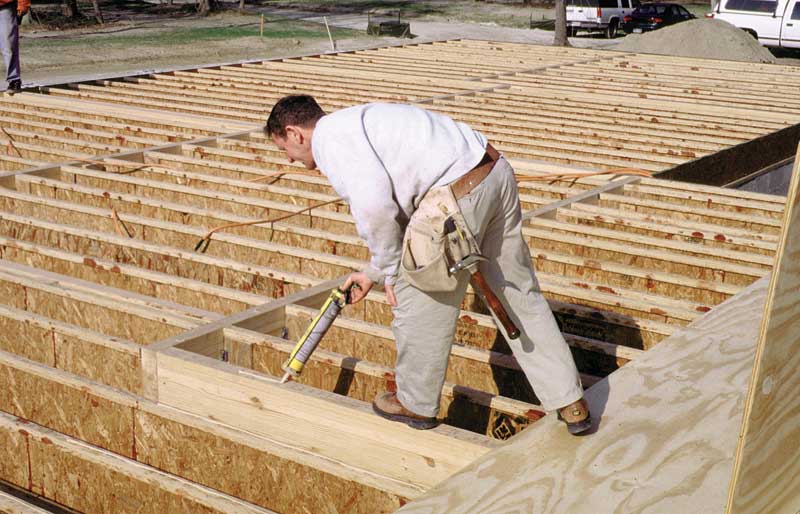 By Cory McCambridge and Jessica Wilbur
Building owners and occupants frequently take it for granted floors will be squeak-free and structurally sound. The consistency and uniform performance of engineered wood makes it easier to build floors meeting these expectations. While traditional lumber products often vary due to natural imperfections such as knots and splits, engineered wood products are manufactured to be even and true in size without voids, gaps, or twists. The result should be a stable, sturdy final product.
Components of a floor system
Engineered wood can play an important role in various components of the flooring assembly.
Glulam members
Glued-laminated timber (glulam) beams have greater strength and stiffness than comparable dimension lumber and are stronger than steel on a pound-for-pound basis. Glulam beams can span long distances using relatively lightweight members with minimal need for intermediate supports. This opens the design possibilities in a host of applications. Many distributors inventory glulam in I-joist-compatible (IJC) depths for use with I-joist framing systems. The beams can also be partially concealed in the floor joist cavity or left completely exposed below the floor framing. Materials under the 'Architectural Appearance' or 'Premium Appearance' classifications can add esthetic value to the room below.
I-joists
I-joists make efficient use of wood fibre by putting high-strength wood only where it is required, creating a joist that not only contains 36 per cent less wood than dimensional 2x10s and 2x12s, but also is stiffer and stronger. Unlike large, solid sawn or built-up timber beams, glulam and I-joists exhibit minimal shrinkage and warping, which ensures a more consistent and even floor surface. Additionally, floors constructed with I-joists have minimal nail popping and fewer squeaks. (When cutting holes in I-joists or rim boards for HVAC, electrical, or plumbing, it is important to notify the project engineer as well as consult the manufacturer's installation recommendations.) Due to the fact I-joists are available in lengths in excess of 15 m (50 ft), designers can take advantage of their ability to span greater distances when compared to conventional lumber. (I-joist span tables can be found in the APA publication PRI-400, Performance Standard for APA EWS I-Joists, Form E720 CA, or from the span tables located on the manufacturer's website. Comparatively, conventional lumber span tables can be found in section 9.23.4.2.-A through to section 9.23.4.2.-G, located in Part 9 of the National Building Code of Canada [NBC].)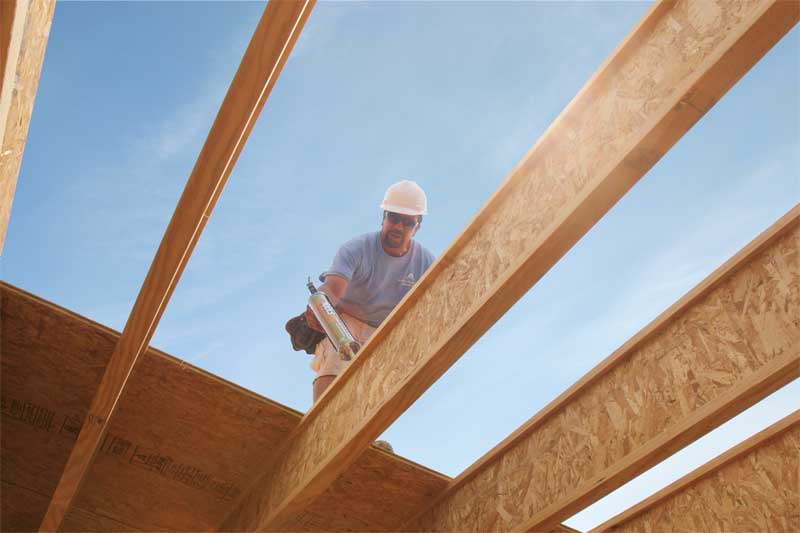 Rim boards
Serving as the outer component of the floor system, the rim board provides a structural perimeter around the engineered wood floor system, safely transferring accumulated vertical loads through the top and bottom plates of two wall sections or between the sill plate and bottom plate of a wall. With high strength, dimensional stability, and structural reliability, rim boards match the depth of wood I-joists and offer highly predictable performance and consistent quality.
Wood structural panel sheathing
Sheathing is a generic term for either plywood or oriented strand board (OSB) panels used to construct roofs, floors, and walls. When choosing sheathing, it is essential to define the floor's predicted loads and structural requirements, and to select a substructure appropriate for installing the chosen finish floor.
Underlayment
There are generally two types of plywood suitable as underlayment. The first category includes sanded/touch-sanded plywood manufactured to the regular grade standards found in three different CSA standards:
CSA O121, Douglas-fir Plywood;
CSA O151, Canadian Softwood Plywood; and
CSA O153, Poplar Plywood.
The other option is for mill-specific custom underlayment grades that will have enhanced performance properties.
Both types are recognized under the National Building Code of Canada (NBC). The choice between these products depends on how demanding the application is, as well as how sensitive the finish flooring is to the subfloor/underlayment below. For example, a thin resilient floorcovering, such as vinyl, needs to be installed over a custom underlayment that is a smoother grade. Carpeting and padding are thicker and therefore more forgiving than vinyl—in that instance, one can specify regular sheathing, which has a rougher surface than custom underlayment.

Control the content you see on ConstructionCanada.net!
Learn More.