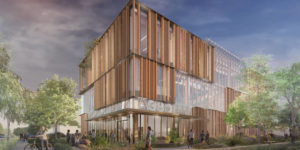 C.F. Crozier & Associates Inc. (Crozier), a building and land development consulting firm, will build a new head office in Collingwood, Ont., incorporating sustainable and biophilic design elements, including a mass timber structure as a nod to the town's shipbuilding history.
The 2,416-m2 (26,000-sf), three-storey building will be built by the local developer, Nutak Holdings Ltd. The new headquarters will support the firm's growing team and diversified client services and feature sustainable design with collaborative spaces.
Other biophilic and sustainable elements of the building will be the green walls, trees, an abundance of natural light, and an expansive atrium featuring a grand staircase to serve as the building's central hub. The outdoor space will include a rooftop terrace with natural green space, showcasing the firm's research initiatives, such as stormwater management and building aeration systems.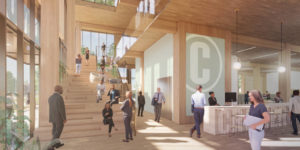 For the project, Crozier is leading civil, transportation, structural, mechanical, and electrical engineering, landscape architecture, construction, and project management. SvN Architects + Planners Inc. is leading the building design and interior design, with Loom Creative Inc. consultant for interior design.
"We are excited to announce a world-class office building that will serve as our national headquarters and showcase excellence in engineering and design in an inspiring, modern workspace," says Chris Crozier, founder and CEO, Crozier. "This new office will support the firm's continued growth and further expand our longstanding presence in Collingwood, where Crozier was founded in 2004. We look forward to working with Nutak Holdings Ltd. in enhancing a progressive work environment for our people and the community."
The new headquarters has a target completion date of fall 2024.