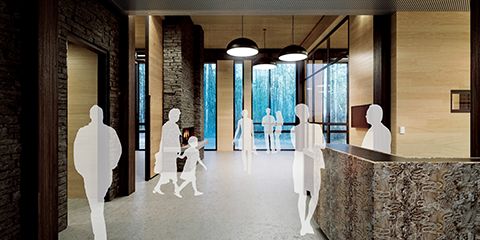 Equity and beauty
Any project that contributes to a sustainable or regenerative future needs to embrace equity providing for all cultures, orientations, and physical abilities.
York Region will make the YRFSEC available for free events, allowing people from all communities to experience the
building and learn about the forest. Access to the Hollidge Tract is free year-round. The onsite nature trails are all cleared and graded for wheelchair access and designed to Accessibility for Ontarians Disability Act (AODA) standards, making it one of very few sites of this type in North America.
If buildings are meant to stand the test of time, then they need to be attractive enough for people to cherish and preserve over several generations to come. LBC includes a requirement for "beauty and spirit," including features solely for human delight and celebration of culture, elements that are visually pleasing as much as they are functional or practical. While balancing all the challenging targets on the York Region project, beauty and esthetics were always preserved. The result is a building that truly reflects the place around it and the wonder of the forest ecosystem.
Creating regenerative development
Regenerative design is really just the method for achieving the ultimate goal: cultural and ecological restoration. Regenerative development builds the physical and cultural foundation for lasting change. While a structure takes years to design and build, an even longer period must pass before its impact in the ecosystem and community can be assessed.
Visiting the forest can be a transcendent experience, restoring the connection between human development and the ecosystem lost in today's world view. By educating visitors on the principles of sustainability, forestry, stewardship, and regeneration, the project can inspire change not just within one building but within the entire community.
Over the next 90 years, the goal will be to see a transformation just as striking as the one from blow-sands to the healthy forest and one where the relationship with place, materials, energy, water, and health is recalibrated to harmonize with the surrounding ecology.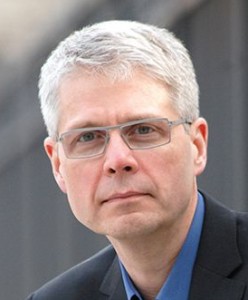 Craig Applegath, PPOAA, AIBC, FRAIC, LEED AP, is a principal and founding partner of DIALOG's Toronto studio. Trained first as a biologist and then as an architect and urban designer, he is passionate about finding planning and design solutions that make sense in a world challenged by climate change and environmental deterioration. Since graduating from the Graduate School of Design at Harvard University with a master of architecture in urban design, Applegath has focused on leading complex institutional planning and design projects, and is internationally recognized for his design and advocacy of eco-effective, regenerative buildings and cities. He can be contacted by e-mail at capplegath@dialogdesign.ca.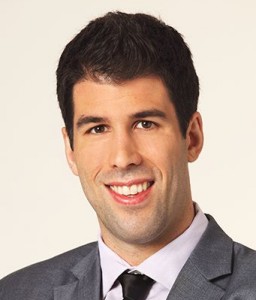 Charles Marshall, P.Eng., LEED AP, is a sustainable design professional at DIALOG's Toronto studio. With a background in mechanical engineering, he has broad technical knowledge and collaborates with design teams to achieve the highest level of sustainability. Marshall has championed high standards in green design on a range of project types including renewable energy systems, energy retrofits, and new construction. He plays an active role in DIALOG'S integrated design process and has presented at conferences on the value it adds to clients, projects, and project teams. Marshall can be reached by e-mail at cmarshall@dialogdesign.ca.

Control the content you see on ConstructionCanada.net!
Learn More.