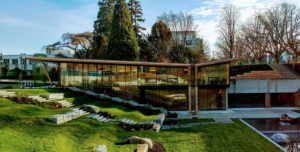 The Indian Residential School History and Dialogue Centre by Formline Architecture in Vancouver, B.C., is the recipient of the 2019 North American Copper in Architecture (NACIA) award in the 'New Construction' category.
The awards program, organized by the Copper Development Association (CDA) and the Canadian Copper & Brass Development Association (CCBDA), recognizes and promotes building projects in Canada and the United States for their outstanding use of architectural copper and copper alloys.
The annual awards program showcases a wide range of projects, all of which highlight craftsmanship, attention to detail, and architectural vision.
"The 2019 winners display a great balance of innovative wall cladding structures and historical restoration projects, which is very indicative of the architectural trends we are seeing across North America," said Stephen Knapp, the director of the Strip, Sheet, & Plate Council for CDA. "Copper is truly one of the most versatile and sustainable building materials available. As the green building trend continues, we expect to see the material increasingly utilized to achieve various certifications and environmental goals."
All submissions are judged and reviewed by a panel of copper and architectural experts based on building design, use of copper and technique throughout the project, copper installation, and when applicable, historic renovation.
Other winners include the Postal Station B in Ottawa, Ont., by Schoeler Heaton and Robertson Martin Architects, the Saint Roch de l'Achigan City Hall in Saint Roch de l'Achigan, Que., by Affleck de la Riva architects, and the Voltigeurs de Québec Armoury in Québec City, Qué., by Architecture49 in the 'Restoration' category.
The Senate of Canada in Ottawa, Ont., by Diamond Schmitt Architects and KWC Architects won in the 'Ornamental' category.