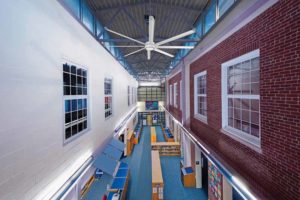 Working with HVAC
In northern climates, fans work with the HVAC system throughout the heating season to improve comfort and create a more uniform temperature from floor to ceiling. The ability of HVLS fans to mix the different air temperatures and push the hotter air at the ceiling down to the floor level can save buildings up to 30 per cent on heating costs. It can also reduce the amount of ductwork required and the load on HVAC systems.
For schools—and anywhere else people sit for longer periods of time—the air circulation from HVLS and smaller ceiling fans has the added benefit of improving indoor environmental quality where people sit and work, thereby positively impacting overall performance and productivity.
The desire to create healthy, stimulating environments has led one architecture firm to include ceiling fans in its recent school projects.
Barrie North project
The Barrie North Collegiate Institute (BNCI) was established in 1957 in Ontario's Simcoe County District School Board (SCDSB). Since it was built, it has added a series of wings, creating a quadrangle. Space outside that area is taken up with parking lots and athletic fields. When the school district awarded Kingsland + Architects a contract to build a two-storey academic resource commons, the only place for the addition to go was inside the quadrangle. Principal architect Colin Kingsland was familiar with HVLS fans from previous projects, including the new atrium joining the Riverside Public School and Elmira Children's Centre in Waterloo, Ont. Convinced of the fans' benefits in school settings for destratification, as well as environmental quality, he made them a central element in the project's sustainability design strategy.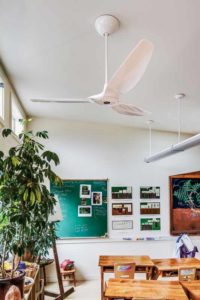 The 2770-m2 (30,000-sf) Barrie North project had its grand opening in the spring of 2018. Throughout the open areas of the library, study lounge, corridors, and breakout spaces, Kingsland's firm had 2- and 2.4-m (7- and 8-ft) commercial HVLS fans installed on the 4-m (14-ft) ceilings. While the fans' primary purpose may be destratification during the colder months, they also play an important role in creating comfort throughout the school year. In the library, which features 5-m (15-ft) windows around the perimeter, the fans help circulate the air-conditioning, thereby creating a cooling breeze to prevent warm spots by the windows.
"Fans do an amazing job of not only circulating the air to destratify, but also cooling. With the slight breeze, an indoor space goes from a very stuffy place to somewhere that is quite comforting and comfortable," Kingsland said.
In addition to HVLS fans, Kingsland designated 1.5-m (5-ft) ceiling fans in stairwells linking the open spaces for further air circulation.
Schools represent about 80 per cent of Kingsland's work. According to Kingsland, it is paramount the finished design should enhance students' learning experience, which relies on two fundamental tenets: natural daylighting and air quality strategies.
"Creating an environment that is healthy, stimulating, and has been proven to positively affect productivity and reduce absenteeism is, in our estimation, a prerequisite," said Kingsland. "Strategies such as daylighting and air quality have been shown to enhance productivity, and we have found air movement to be critical to good indoor air quality [IAQ]."
It is clear air movement and daylighting go hand-in-hand. In areas with tall ceilings and lots of glass letting in natural light, fans become a necessity, too. Their thorough air circulation keeps everywhere in the space at essentially the same temperature.
When spinning slowly to destratify, the fans at BNCI create no perceptible air movement at occupant levels, but can accomplish approximately 6.5 air turnovers per hour. Project engineer Barry Day estimated the savings in ductwork where the fans were installed to be approximately $20,000.

Control the content you see on ConstructionCanada.net!
Learn More.