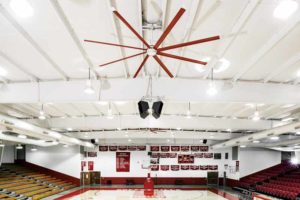 by Christian Taber, LEED AP, HBDP, BEMP, CEM
A few months ago, a news story out of Toronto struck a familiar chord. "Students are only on their second day of school, and already facing a fight to keep cool amid a September heat wave," said the report. Daytime temperatures were breaking records at 32 C (90 F) and feeling much closer to 42 C (107 F) with the humidity.
"With only 128 of the Toronto District School Board's [TDSB's] 583 schools fully equipped with air-conditioning," the reporter noted, "many parents and teachers are renewing their calls for action."
Video clips showed children describing "burning" conditions in the classrooms and adults who were demanding change.
At least once a year, schools across Canada contend with heat waves sending thermostats soaring. To cool down students and make classrooms feel less stifling principals and teachers employ various measures, such as:
pulling down window blinds;
providing extra water breaks; and
moving students to the basement.
However, those steps cannot quell the public outcry about the lack of air-conditioning in the majority of schools—an outcry routinely met by reminders from school boards about the high cost of installing air-conditioning in all schools ($750 million in the Toronto district alone). The fact most schools would use air-conditioners for only a few weeks in the school year makes the amount particularly difficult to swallow.
The process of establishing cooling strategies for existing schools can take years. Meanwhile, some architects and engineers have begun employing a simple and economical solution to the problem: ceiling fans. Every year, more school districts are recognizing the advantages of using energy-efficient ceiling fans to create a comfortable and stimulating learning environment.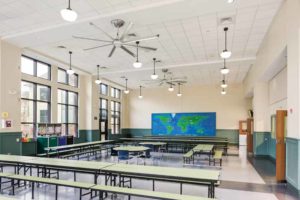 Ceiling fan transformation
The last 20 years have seen dramatic changes in the ceiling fan industry, including the development of large-diameter fans to move massive amounts of air over a wide area.
These high-volume, low-speed (HVLS) fans are usually employed in warehouses and factories where air-conditioning would be prohibitively expensive. These fans have demonstrated their effectiveness at cooling millions who work in such places as they have been adopted across the globe.
However, at schools in Canada, students and staff are discovering these same fans, which in the last 10 years have come to feature silent, direct-drive motors and elegant designs, also vastly improve comfort in cafeterias, libraries, and other spaces at a fraction of the cost of air-conditioning.
The ceiling-fan transformation is not just in HVLS models. Smaller ceiling fans have also been made more energy efficient and effective. As a result, they are being installed in an increasing number of classrooms. Thanks to a cooling effect of up to 5.5 C (10 F) or sometimes more, high-quality fans can make a huge difference in an enclosed space filled with energetic children. Teachers also appreciate the fact independent control of their comfort with a fan is as simple as pushing a remote button, whereas schools often limit access and the range of control with air-conditioning.

Control the content you see on ConstructionCanada.net!
Learn More.