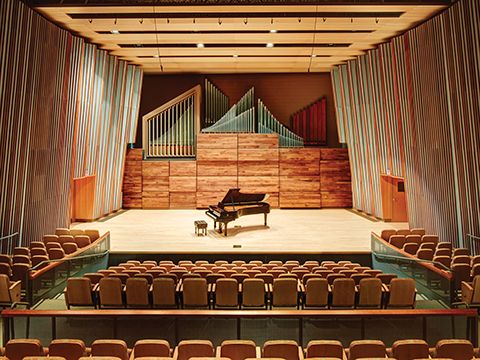 The WIDC
All of these factors were considered within the design and construction of the Wood Innovation Design Centre (WIDC), a 4645-m2 (50,000-sf) building of cross-laminated timber and glulam. The Prince George, B.C., facility is the tallest all-wood building in North America, and posed some unique acoustical challenges.
Since many of the rooms would be used for distance learning by the University of Northern British Columbia (UNBC), there were specific requirements around sound isolation to prevent sound bleeding between rooms, causing a distraction for students and teachers. The acoustics of the rooms had to be carefully considered to ensure speech intelligibility.
To add to the challenge, there was no room for error on this project. As a design-build public-private partnership (P3) model, there was a set of strict requirements that had to be adhered to in construction. Failure to meet these requirements at the completion of the project would result in significant monetary penalties.
Given there have not been many wood structures of this size constructed to date, there were limited practical examples to follow; there were no field test measurements to reference or extensive design guides to follow when it comes to the acoustics and sound isolation.
With little existing acoustic testing available on the WIDC's unique structure, a theoretical analysis had to be conducted to accurately determine what the design of the walls, floors, and ceilings would be to achieve the required sound isolation and room acoustic performance. The Forestry Products Innovation (FPI) then directed field mockup tests based on the theoretical design to confirm performance.
The National Research Council Canada (NRC) had recently performed preliminary laboratory STC tests of a sample of wall and floor assemblies made with CLT; it shared this unpublished data with the designer. The theoretical, laboratory, and field test results were then compared, with the designs adjusted as needed before proceeding with construction.
To ensure sound isolation in the WIDC building, several elements were incorporated into the acoustical design.
Isolated double-stud wall
Wood studs tend to transfer sound more easily than steel so there was a need to break the transmission path that exists with a single stud connection where the two sides of the drywall are connected through the screws and stud. Using an isolated double stud wall resolved this issue and significantly increased the sound isolation between spaces.
Wall assembly design
The amount of air space, stud spacing, and number of layers on the wall on each side were considered. For walls between video conferencing rooms and lecture theatres, an isolated double stud construction designed to meet STC 55 was used. A 25-mm (1-in.) air gap separated the wood studs spaced at 610 mm (24 in.) oc and filled with 90-mm (3.5-in.) glass fibre insulation.
Floor-ceiling construction
Numerous designs were created to find the optimal floor-ceiling construction with a combination of wood materials with resilient channel and drywall: Floor-ceiling assemblies had to be designed to STC 50 throughout the building in noise-sensitive spaces, and an impact insulation class (IIC) rating of 70 or higher. Sometimes referred to as 'impact isolation class,' the IICs rating measures the assembly's resistance to transmit structure-borne or impact noise—for example, how well the impact noise of a heel dropping on the floor above is reduced to the space below. These ratings were critical for the video conferencing rooms.
Sealed openings
Any openings where sound could transfer were sealed. The stud wall separating the sensitive spaces did not reach the bottom of the structural floor, leaving open holes between rooms allowing noise transfer. The same applied with ceiling chases. In both cases, the space had to be properly covered and filled with acoustic insulation, then sealed and caulked to reduce any sound transmission.

Control the content you see on ConstructionCanada.net!
Learn More.