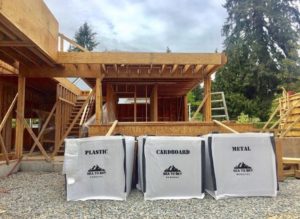 Sea to Sky Removal (S2SR) won the Small Business BC Award for Best Concept during a gala at the Vancouver Convention Centre on February 24.
Operating throughout Whistler and the Lower Mainland, S2SR is one of the region's first waste disposal companies. Run by husband-and-wife team Chris Arkell and Cinci Csere, the company is on a mission to change the construction industry's waste disposal practices, and educate workers in the process.
"We want to create more awareness and conversation around construction industry waste, with the ultimate goal of diverting recyclable materials from landfills. When it comes to sustainability, the industry needs a nudge in the right direction," said Arkell.
They provide tips to crews who are used to tossing everything—plastic, wood, cardboard, carpet, and stone—into a single trash bin. S2SR sets up recycling stations on construction sites and also provides tutorials to workers.
Photo documentation and diversion percentage reports for Built Green and Leadership in Energy and Environmental Design (LEED) projects allow contractors to know exactly where their materials end up. As an added incentive, S2SR donates reusable items to non-profits like Habitat for Humanity.
According to the BC Construction Association (BCCA), the value of proposed construction projects in the province is $329 billion. Only 75 per cent of the construction industry's waste—1.5 million tonnes annually throughout the Lower Mainland—is recycled.
S2SR crews hand-sort and load all materials—a process called "live-loading." Approximately 136 kg (300 lb) of recyclables can be diverted for each recycling service.
The five-month long competition kicked off in October, 2017, when more than 600 small businesses from 61 communities across British Columbia were nominated.