Mass timber panel technology
The floor and roof diaphragms of those early 1900s buildings were traditionally constructed of gang-nailed dimension lumber, such as 2×8 planks on-edge. These extremely sturdy assemblies were the first examples of what is now frequently termed mass timber panel (MTP) technology.
MTP refers to any wood-based diaphragm that can be used as an alternative to reinforced concrete, for floors, roofs, walls, and cores. Many of these are pre-manufactured to exacting specifications using computer-numerical-controlled (CNC) equipment, with openings, penetrations, and connection details precisely tailored for each individual piece.
Modern mass timber panels come in sizes of up to 3 m (10 ft) wide, 19.5 m (64 ft) long, and 305 mm (12 in.) thick, and in various compositions from a wide range of suppliers. In addition to simple nail-laminated slabs, several glulam manufacturers now offer glued versions of up to 3 m wide. In addition to being used in floors and roofs, nail-lam or glulam mass timber panels are now often used for the timber elevator and stair shafts in British Columbia's five- and six-storey, light-wood frame residential, mid-rise apartment buildings.
Laminated strand lumber (LSL) panels are made by shredding wood from fast-growing, low-value hardwood logs, such as aspen, birch, and poplar into thin strands. These are oriented for maximum strength and glued together into 2.4 m (8 ft) wide by 19.5 m (64 ft) long 'billets' via a steam-injection process. When used in their original wide-sized format, they provide an excellent option for diaphragm applications. Full-sized LSL panels provide structural support and a unique architectural statement in projects such as the North Vancouver Civic Centre, UBC's Earth Science Building, and the Wildlife Interpretive Centre in Kamloops.3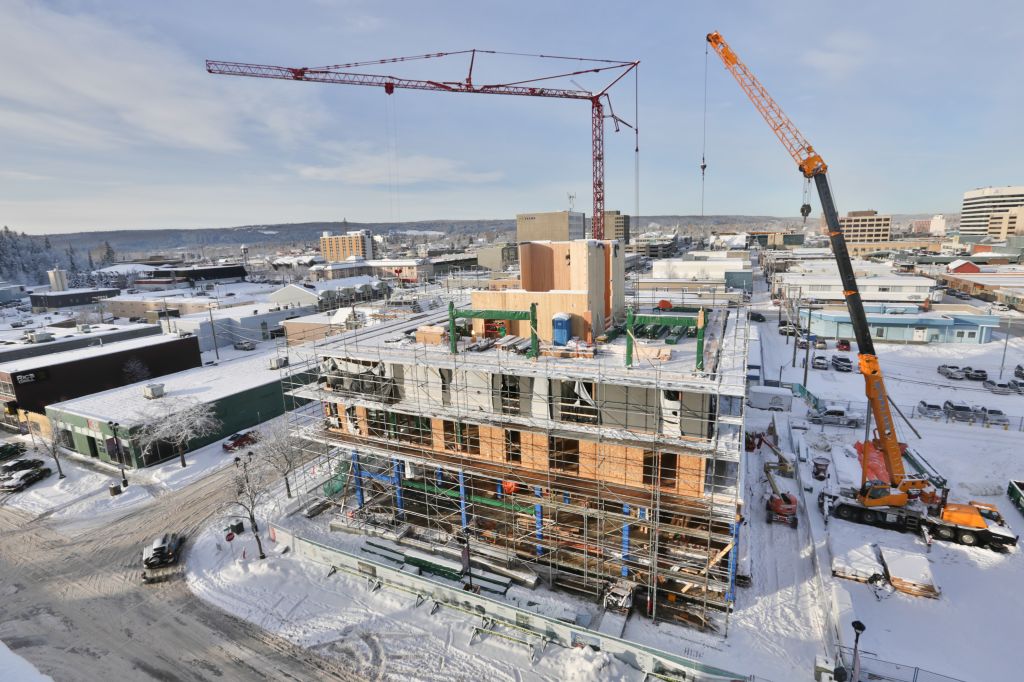 Cross-laminated timber (CLT) is a large, multi-layered, wooden panel made from dimension lumber.3 CLT is engineered for strength and stability through laminations of different layers placed cross-wise to the adjacent layers. Each panel is then sized and shaped, usually with a CNC machine into a fully articulated construction-ready component. By the nature of its design, CLT has inherent load-bearing strength and can serve as material for both vertical and horizontal assembly applications.
Laminated veneer lumber (LVL) panels are made from 'peeler logs' in the same production lines as LVL beams. Engineered to precise design values and with a high strength-to-weight ratio, LVL panels are also suitable for structural wall, floor, and roof applications. With the renewed interest in engineered wood products for diaphragm applications, manufacturers are beginning to position LVL in full sheet format, but the most interesting configurations involve laminating LVL beams side-to-side to make thin, solid, vertically laminated LVL panels, as at the Shoreline by MGA project for Weir Jones Engineering Vancouver.
While WIDC includes only CLT and LVL mass timber panels, many of the installation techniques described below would apply similarly for the other systems.
The solid wood core
The construction team of PCL Westcoast Constructors, supported by John Boys and Company, quickly saw the advantages provided by the solid CLT core panels that form the elevator shaft, stairwells, and vertical mechanical corridor. Panels 2.4 m (8 ft) wide, 12 m (40 ft) long, and up to seven plies thick were used in the core, and registered up to 3538 kg (7800 lb) on the crane as they were quickly lifted into place.
Deeply embedded steel anchor plates on the edge of the panels using the ductile HSK system were arc-welded to plates attached to the concrete foundation. The core will provide complete resistance to lateral loads and uplift.
Edge-to-edge, the CLT panels are connected using lap joints and self-tapping screws. Firestopping was applied between all edges to ensure a seamless connection. The inside corners were reinforced with metal angle plates, once again quickly installed with self-tapping screws.
The entire core will require three tiers of these massive CLT panels to achieve the total 29.25-m building height. The end-to-end connections, where the panels are stacked, are achieved using a combination of lap joints, self-tapping screws, and custom-designed steel hold-down straps.
Fire protection for WIDC is provided through a fully engineered approach, based on charring rather than the more common encapsulation method. This means, rather than protecting the wood structure from exposure to fire by covering it with non-combustible material, the wood is left exposed, but the sizes of all the columns, beams, and mass timber panels are increased. The structural sections are over-sized to provide a protective 'sacrificial' layer of wood that will char slowly enough to provide the required fire protection.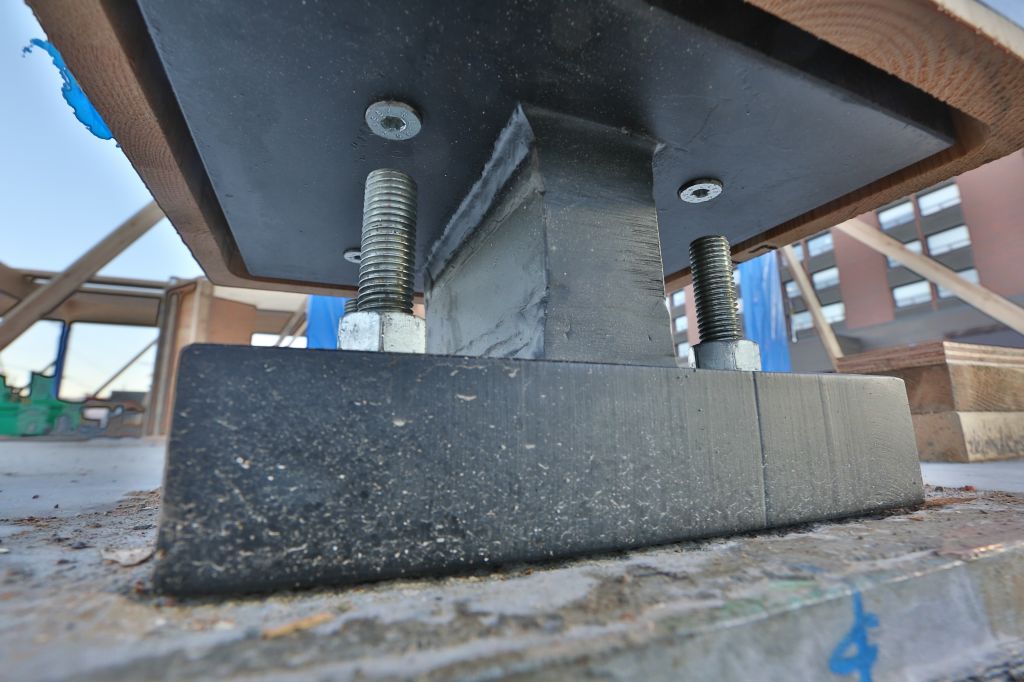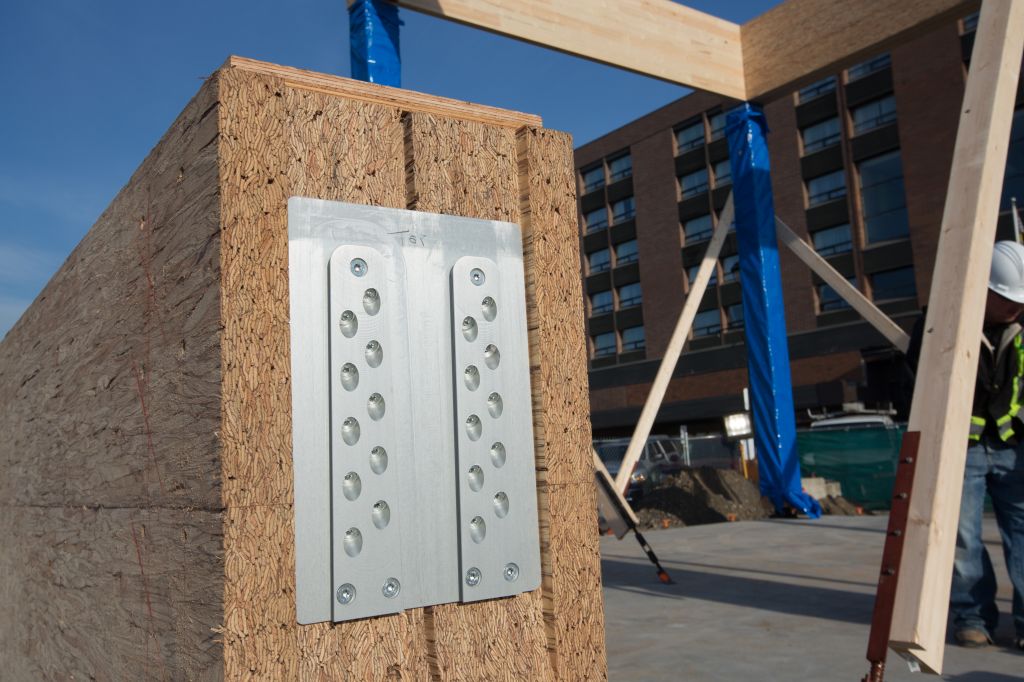 Corrugated solid panel floors
One benefit of mass timber floors is they can provide both a structural floor and an exposed ceiling, which can significantly reduce the cost of finishes. However, as the constructors of the 16 other contemporary tall wood buildings around the world discovered, the solid wood nature of the panels can make routing services problematic.
As a result, the Wood Innovation and Design Centre's floors were designed using a unique 'corrugated' system of staggered CLT panels. Three-ply CLT is used as the top layer, supported on five- and seven-ply CLT plates spanning between the glulam beams. With the staggered floor slab design, the distribution of mechanical and electrical systems throughout the building is solved in a new and repeatable way.
Horizontal chases are created between the staggered timber slabs to run services both below the floor and above the ceiling. An acoustic-insulated subfloor system will be loose-laid over the chases with cut-out panels to provide access to these floor trenches. Lighting and fire suppression systems will be run in the ceiling recesses, concealed with a simple, removable wood-slat finish.
The service chases inherent in the structural system offer extensive flexibility for reconfiguring the space for future occupants. Therefore, the need for secondary ceiling finishes to conceal service runs is significantly reduced, saving materials and cost. The wood structure is exposed at the ceiling, providing a beautiful finish that speaks to the purpose and mission of the facility.

Control the content you see on ConstructionCanada.net!
Learn More.