The 'dry' system
The Wood Innovation and Design Centre design team, led by Michael Green Architecture and the structural engineers at Equilibrium Consulting, opted for a 'dry' system. In other words, the only concrete in the building is in the raft slab and under the floor below the heavy mechanical equipment in the penthouse.
Watching the assembly one might conclude the construction process mirrors the installation of concrete forms, except the forms are actually the final structure. This means the steps of concrete reinforcing, pouring, and curing—and removing the forms—are eliminated. Not only does this dramatically reduce the structure's weight, but it also speeds up construction, reduces traffic congestion, and makes the building entirely de-constructible.
The structure sits on a reinforced concrete raft slab and consists of engineered wood columns and beams, supporting mass timber panels. These components are held together by a combination of embedded metal connectors, external metal plates, and self-tapping screws.
At the foundation, steel connector plates are deeply mitered into the bottom end of the glued-laminated timber (glulam) columns with state-of-the-art, high-strength, self-tapping screws. After careful alignment, the protruding tab is arc-welded to plates pre-mounted onto studs embedded in the concrete raft slab. This connection provides tremendous resistance to lateral loads and uplift.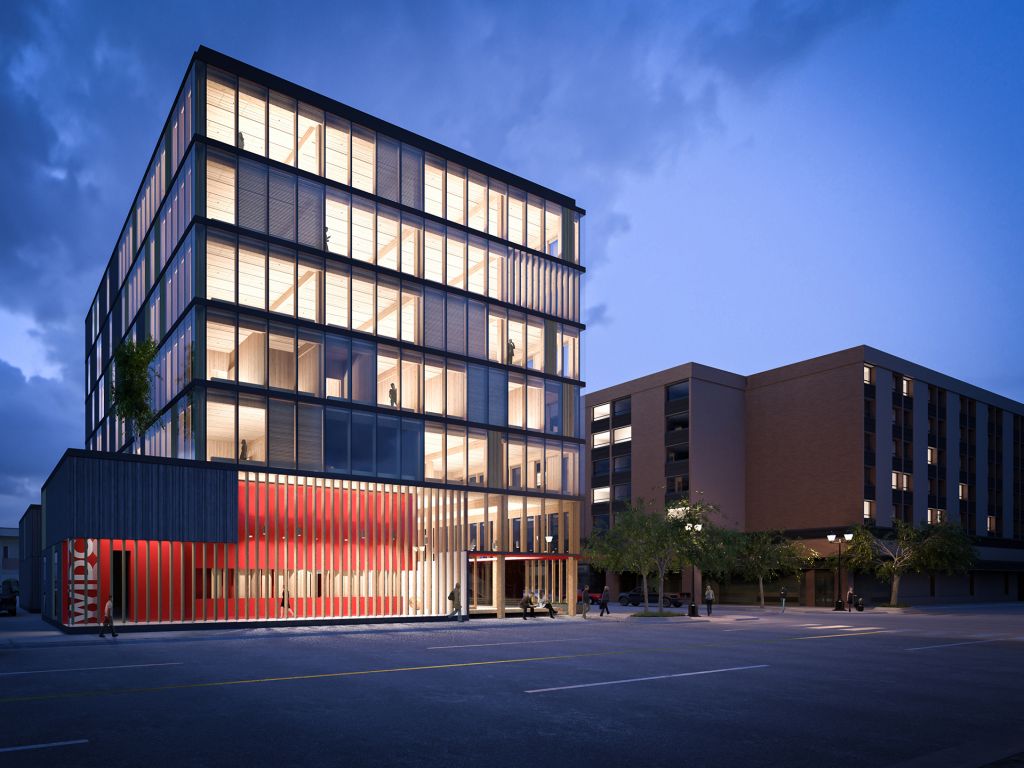 All the columns and most beams were glulam members provided by the same source, except for the parallel strand lumber (PSL) transfer beams on the first storey, which support the major loads over the open atrium and mezzanine. For ease of installation, the columns and beams arrived on-site with factory-installed, proprietary, aluminum, dove-tail connectors. Erecting the system simply involves sliding the devices into each other until they mate and self-tighten.
The columns stack, end-grain to end-grain, minimizing the potential for shrinkage as most of this occurs perpendicularly, across the grain of the fibres. The top of the column of the lower storey below penetrates the floor slabs, and is connected directly to the column above using embedded steel connectors. Concealing the majority of the device within the wood allows the material's natural insulating properties to protect the metal in the event of fire.
This is a modern twist on the traditional post and beam designs seen in industrial and commercial buildings built around the turn of the 20th century. Some as high as nine storeys tall, many of these are still in use in Vancouver, Victoria, Toronto, and other major cities in North America.

Control the content you see on ConstructionCanada.net!
Learn More.