Constructing a better knowledge base in Rhode Island
September 5, 2017
Registration is still open for CONSTRUCT & the CSI Annual Convention[1], coming to Providence's Rhode Island Convention Center[2] from September 13 to 15. Featuring exhibits, social events, and myriad opportunities to expand technical knowledge, the conference appeals to a wide variety of design/construction professionals—both in CSI and beyond.
The event's educational program was determined by an Education Advisory Council[3] comprising 12 people:
Susanne Connors Bowman, CAE, of CSI;
Edmund L. Brown, CSI, CCCA, Assoc. AIA, of SEBREE Architects[4];
Nina Giglio, FCSI, CCS, of Perkins Eastman[5];
Chris Hardy of Sasaki[6];
Cherise Lakeside, CSI, CDT, of Ankrom-Moisan Architects[7];
Eric D. Lussier, CSI, CDT, of Precision Athletic Surfaces[8];
Christopher O'Hara, PE, SECB, of Studio NYL[9];
Brent Redmon, CSI, CDT, of Gwinnett County Public Schools[10];
Di Ann Reid, CCS, CCCA, of Gensler[11];
Floyd Sterling, FCSI, CDT, of Shreve Land Constructors[12];
Sheldon Wolfe, RA, FCSI, CCS, CCCA, CSC, of BWBR[13]; and
Corey S. Zussman, AIA, NCARB, ALA, REWC, RWC, RRO, CDT, CQM, LEED AP, of Pepper Construction[14].
Educational opportunities are available throughout the convention center, from designated technical sessions to show floor-based seminars led by exhibitors. Attendees can visit the exhibit hall's Learning Lounge[15] for one-hour sessions on subjects such as paint technology, wall/roof sheathing, and wood cladding. A Learning Pavilion[16] is also located in the hall, hosting 45-minute exhibitor sessions covering everything from security glass to thermal efficiency.
CONSTRUCT attendees can also attend a keynote with Pritzker Prize-winning architect Thom Mayne on September 14, and a Game Changer Session with Paul Doherty ("Specifications in the Age of Smart Cities: How Specs are Changing the World") on September 15. See the video above for a preview of the latter session.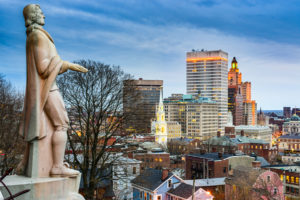 Other featured sessions[18] include:
"What Is a Building Enclosure?" and "Roofing: Where the Building Touches the Sky," presented by Joseph Lstiburek, PhD;
"The Complete Wall: Hands-on Demo of Detailing for a Continuous Air, Water, and Thermal Assembly," presented by Tiffany Coppock;
"Let's Fix Construction: An Interactive Luncheon," presented by Cherise Lakeside, CSI, CDT, and Eric D. Lussier, CSI, CDT;
"Specifying Target Value Delivery," presented by Beth Stroshane; and
"Understanding and Ending Moisture-related Flooring Problems," presented by Peter Craig and Scott Tarr.
Other opportunities for hands-on learning include product demonstrations on the show floor and technical tours covering John J. Sbrega Health and Science Building[19] and historical structures[20] such as John Brown House and the Education Center of First Unitarian Church.
Endnotes:
CONSTRUCT & the CSI Annual Convention: https://www.constructshow.com/en/home.html
Rhode Island Convention Center: http://www.riconvention.com/
Education Advisory Council: https://www.constructionspecifier.com/education-council-announced-for-construct-2017/
SEBREE Architects: http://www.sebreearchitects.com/
Perkins Eastman: http://www.perkinseastman.com/
Sasaki: http://www.sasaki.com/
Ankrom-Moisan Architects: https://www.ankrommoisan.com/
Precision Athletic Surfaces: https://www.precisionathleticsurfaces.com/
Studio NYL: http://www.studionyl.com/
Gwinnett County Public Schools: http://www.gwinnett.k12.ga.us/gcps-mainweb01.nsf
Gensler: https://www.gensler.com/
Shreve Land Constructors: http://www.shreveland.com/
BWBR: http://www.bwbr.com/
Pepper Construction: http://www.pepperconstruction.com/
Learning Lounge: https://www.constructshow.com/en/expo-activities-and-events/continuing-education111.html
Learning Pavilion: https://www.constructshow.com/en/expo-activities-and-events/continuing-education1111.html
[Image]: https://www.constructioncanada.net/wp-content/uploads/2017/09/bigstock-Providence-Rhode-Island-city-139927661.jpg
featured sessions: https://www.constructshow.com/en/education/continuing-education1.html
John J. Sbrega Health and Science Building: https://explore.constructshow.com/Attendee/Schedule/SessionDetails/39997
historical structures: https://explore.constructshow.com/Attendee/Schedule/SessionDetails/39998
Source URL: https://www.constructioncanada.net/constructing-a-better-knowledge-base-in-rhode-island/
---