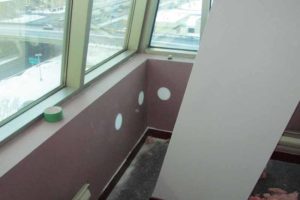 Final results
A series of site visits were made in order to collect additional surface temperature measurements following the modifications to the wall assembly at the test corner of the building and to monitor performance. In between the site visits, consistent and extreme cold exterior temperatures from –18 to –28 C (–0.4 to –18.4 F) were experienced. During site visits, exterior temperatures of –18 C and –19 C (–2.2 F) were measured.
The removal of insulation from interior wall cavities and the installation of vent caps increased interior surface temperatures by approximately 3 C (5.4 F). Temperature readings collected at the test corner over three consecutive levels also indicated the combined effect of the modifications over successive floor levels further increased surface temperatures. The coldest surface temperatures in these areas were measured between 4 and 6 C (39.2 to 42.8 F) at sill level, with an exterior temperature of approximately –18 C, an improvement of approximately 4 C (7.2 F).
During one of the site visits within the period of intense cold, condensation was noted at a floor level outside the test corner (for which wall cavity insulation had not been removed). No condensation or water accumulation was observed on the curtain wall surfaces within the corner offices of the three floors comprising the test corner.
Subsequent reviews of the test area by building operations staff during the weeks following the monitoring period (with periods of very cold weather) also did not produce any reports of condensation.
Conclusion
Significant increases in surface temperatures were obtained for problematic areas of this curtain wall system by implementing simple measures.
A summary of recommendations and remedial efforts undertaken to mitigate the formation of condensation included:
reduction of humidification under conditions of intense cold for periods of occupancy;
modification to ventilation schedules during cold weather (regardless of occupancy);
installation of supplementary perimeter heating (where absent);
removal of batt insulation from within interior wall cavities; and
installation of vents within the finishes of wall cavities to promote air circulation.
Following a monitoring period to verify performance, the implementation of simple and cost-effective modifications proved successful and the condensation of interior curtain wall surfaces was mitigated. Based on the success of the limited tests undertaken, a recommendation was presented to the client to proceed with full-scale implementation of the mitigation strategies at all affected areas of the building.
This case study demonstrates the resistance to condensation for curtain wall assemblies can be adversely affected by factors external to the assembly itself or by site conditions. Condensation reduction strategies were applied to resolve a particular issue with good results. In this case study, issues specific to a particular building design and construction that reduced the condensation resistance of the curtain wall assembly were identified. Slight modifications to the building environmental controls and interior wall construction proved successful in the mitigation of condensation in problematic areas of the building envelope.
The successful resolution of this case required 
a detailed investigation of specific building issues affecting curtain wall performance during periods of extreme cold. Many of the recommendations discussed can be implemented on other buildings. However, due to the variation in building designs and the strong likelihood of special conditions, it is recommended that a thorough investigation be conducted and remedial efforts be verified prior to large-scale implementation.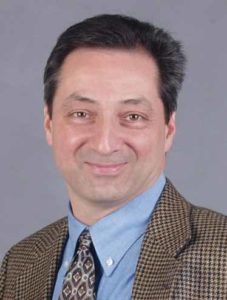 Antonio Renzullo is vice-president of Chiovitti Consultants with almost 15 years of experience in building envelope consulting. His specialization includes building envelope inspection, technical investigations, and analyses of building envelope deficiencies and assembly failures. Renzullo has also conducted numerous façade condition surveys and safety inspections. He has participated in field performance compliance testing of building envelope assemblies and has served as expert witness. His additional experience includes data acquisition, instrumentation, research and development, and equipment procurement and development. Renzullo can be reached via e-mail at a.renzullo.chiovitticonsultants@videotron.ca.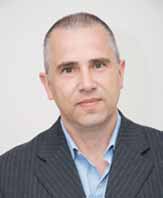 Domenic Chiovitti is president of Chiovitti Consultants and specializes in building envelope consulting. Chiovitti has more than 25 years of hands-on experience and has been recognized by the court as an expert in envelope performance failures. His specializations include onsite quality control (QC) monitoring for new and renovated structures, review of building envelope design and specifications, and recommendations on materials, components, and systems.

Control the content you see on ConstructionCanada.net!
Learn More.