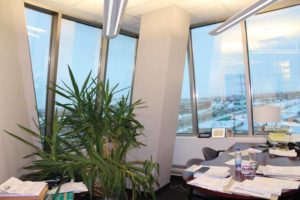 by Antonio Renzullo and Domenic Chiovitti
Over the last 60 years, aluminum and glass curtain wall systems have been incorporated within a vast number of modern building envelope designs. The broad use and acceptance of these wall systems by the design community is indicative of their success. The systems' flexibility and ability to offer a range of building façade design possibilities make them popular with architects and owners. Although curtain wall system designs have proven themselves over the course of time with advancements in several areas, experience has shown these systems are not exempt from problems.
In these authors' experience, commonly encountered curtain wall performance issues include water infiltration, excess air leakage, and condensation. In northern climates, condensation and ice formation may occur on wall surfaces during the coldest periods of the year. Surprisingly, for winter conditions in cold climates, condensation-resistance performance for standard curtain walls is acceptable for typical occupancy conditions. However, under extreme cold or higher levels of interior humidification, the limitations of many curtain wall systems become apparent in the form of condensation or frosting. In some cases, occupancy factors, unconventional building geometry, design details, and the design of heating systems and interior finishes may also contribute to the reduction of condensation resistance during cold periods.
In this case study, a building in the Montréal area was experiencing condensation on interior curtain wall surfaces, specifically at the exterior corners formed by the primary façades (Figure 1). In many of these instances, interior drywall finishes were damaged under conditions of extreme cold (from the wetting of surfaces), and frequent repairs were required (Figure 2). In an attempt to mitigate the reoccurrence of condensation during the winter months and to minimize damages and occupant complaints, the client requested an investigation of the problem areas in the building.
Building information
The property under study is a 12-storey commercial office building constructed in 1989. The exterior building envelope consisted primarily of a standard aluminum and glass curtain wall assembly. The corners formed at the junction of the building's primary façades were particular in design and comprised areas of sloped glazing. The building envelope design also included precast concrete wall panel inserts distributed over the four façades. HVAC systems consisted of a zoned variable air volume (VAV) system for general air/cooling requirements. Additionally, electric baseboard heaters installed along the building perimeter provided heating. The heaters were recessed below the vision units of the curtain wall assembly.
Methodology
During the initial phases of the investigation of condensation issues at the building corners, the following methodology was utilized.
Collection of information
Meetings were organized with building management, building operations personnel, HVAC contractors responsible for environmental systems operation, and tenants of office spaces to determine:
settings and operating schedules for heating, ventilation, and humidification systems during occupied and unoccupied periods and for vacant areas;
history of reported condensation and frequency of occurrence; and
settings for perimeter heating systems within tenant office spaces.
Survey of conditions and data collection
During periods of intense cold, site visits were made to assess curtain wall performance and to determine the severity of condensation on interior surfaces. Specifically, the following was undertaken at selected floor levels of the building:
the operations staff was instructed to conduct daily reviews of office spaces at the building's corners to record areas of condensation on the interior surfaces of the curtain wall and to note places where moisture accumulation had occurred;
temperature and relative humidity (RH) were measured within the spaces at various floor levels;
exterior temperature conditions were obtained from Environment Canada;
thermal imaging of interior curtain wall surfaces was produced; and
point surface temperature measurements were obtained to evaluate curtain wall performance and to calibrate thermal scans (Figure 3).

Control the content you see on ConstructionCanada.net!
Learn More.