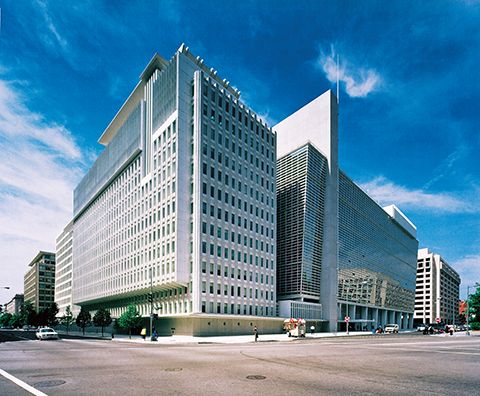 Panel installation
Even when the three variables detailed above are closely monitored, problems can still arise during installation to produce the checkerboard look. In fact, such problems are more likely to occur during installation than at any other part of the process.
In most instances, the primary failure is 'directionality.' A single panel coated with the same paint may be cut into six different pieces prior to installation. If one or more of the pieces is oriented in a different direction from the others, the uniformity of the entire panel can be disrupted.
This effect can be greatly exaggerated in panels and extrusions coated with micas and/or metallics. This is because the pigments and flakes on a given panel (or collection of panels) will lay in a certain direction. If these panels are cut and laid 'opposite to the grain,' the colour will appear incongruent.
For this reason, proper panel directionality during installation is essential. Here are several steps architects and contractors can take to help ensure good panel matching:
Make sure the coating applicator marks the panel with a directional marking, typically an arrow. This will help the installer orient the panels properly when they are being attached to the building.
Avoid putting sheet panels and extrusions in the same plane. Since they are coated using different processes, colour-matching is difficult. If these components must be in the same plane, design the structure to include a visual break. This will help mask any colour differences that exist between the two elements.
When panels arrive onsite, have the installers inspect and segregate them by colour. That way, when the panels are actually being attached to the building, the installers can use similar colours on specific sections of the building, using lighter colours on the lower floors of a building, for instance, and darker panels on top.
Finally, if two adjacent panels appear to be mismatched, do not install them. Find panels that match or call the applicator to address the issue.
Conclusion
As detailed throughout this article, the ability to manage colour expectations for metal coatings requires architects and general contractors to be well-versed in every step of the process, from how to view samples to how finished panels are installed on the jobsite.
For design/construction professionals seeking to minimize both risk and the demands on their time, the best solution is to work with a trusted and proven coatings company that maintains a network of certified applicators who are knowledgeable about their products and trained to meet exacting standards for colour consistency, application quality, installation quality, and customer service.
By working with both experienced coatings manufacturers and their certified suppliers, architects and general contractors do more than minimize opportunities for checker-boarding—they also find a trusted working partner they can count on through every step of the design, specification, and building process for both the immediate project and others to follow.
Scott Moffatt is PPG's market manager for building products, and has 36 years of experience in the coatings industry, encompassing assignments in sales, product management, and marketing. He is a board member of the Metal Roofing Association (MRA), and a member of the Metal Construction Association (MCA), Metal Building Manufacturers Association (MBMA), National Coil Coater Association (NCCA), American Architectural Manufacturers Association (AAMA), and the Cool Roof Rating Council (CRRC). Moffatt can be reached at moffatt@ppg.com.

Control the content you see on ConstructionCanada.net!
Learn More.